26 July 2021
Written by Thabo Qhesi Article No. 77 [UNCTAD Transport and Trade Facilitation Newsletter - Special edition: Trade facilitation stories through the eyes of practitioners]
The Private Sector Foundation of Lesotho (PSFL) is a business association and member of the National Trade Facilitation of Committee (NTFC) as per article 23.2 of WTO Trade Facilitation Agreement. In the NTFC, the PSFL expresses concerns of the business community, while also suggesting possible solutions including in relation to easing the movement of goods. This article explains some of the challenges voiced by the businesspeople of the Mokhotlong and Quthing districts regarding noncommercialized borders.
According to Mr. Solomon Maleke, Manager of Business Licensing at Ministry of Trade and Industry Ministry, there are about 2,300 and 1,300 licensed traders in the Mokhotlong and Quthing districts in Lesotho. Businesspeople from these districts purchase supplies for their businesses in South Africa. Those in Quthing use the Van Rooyens Gate Border Post to transport goods, while those in Mokhotlong use the Caledonspoort Border. This is because the closest borders posts (Tele Bridge and Sani Top respectively), are not commercialized (Figure 1) and it is not possible to pass through a non-commercialized border with goods costing more than M5,000.00[i] (USD385).
Figure 1: Lesotho districts and border posts mentioned in this article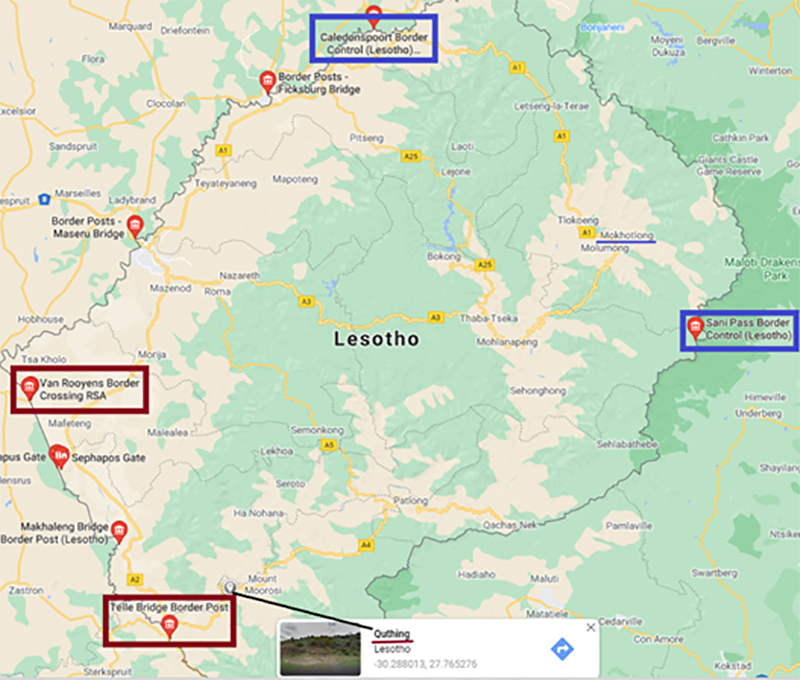 Quthing District Scenario
"I am a businessman selling animal feeds and groceries in Lower Moyeni, Quthing District. I stock for my business in South Africa twice a week. In other words, I stock 8 times in a month", explains by Mr. Teboho Mokau, Director and Owner of Teboho Farm Feeds and General Dealer.
The closest South African border town is Sterkspruit. Driving from Quthing to Sterkspruit is around 48 km and whenever I use Tele Bridge, I spent around M300 (USD 23) on fuel costs. Since Tele Bridge is not a commercialized border, I must use the Van Rooyens Gate Border (in Mafeteng) to reach Quthing from Sterkspruit, which is quite a long distance about 239 km (124 km+ 115 km) (Figure 2). In this case, I must spend around M800 for fuel". Mr. Mokau further stated that he spends around M6,400 (USD492) -M800 x 8 trips monthly- on fuel costs when travelling from Sterkspruit to Quthing via the Van Rooyens Gate Border.
Figure 2: Time and distance incurred for travel between Quthing (Lesotho) and Sterkspruit (South Africa)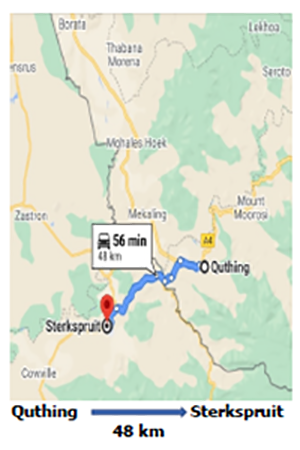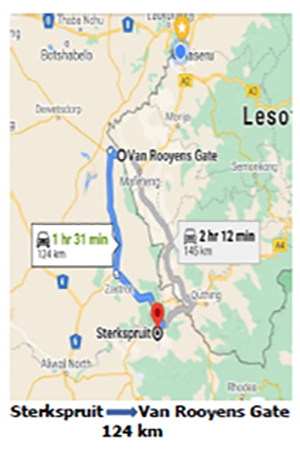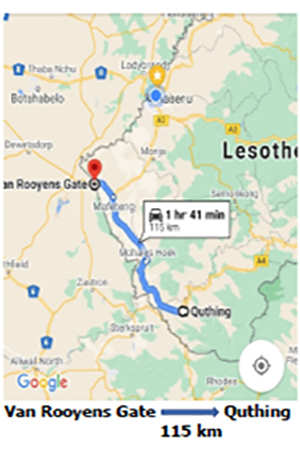 Observation: The situation described above entails that although the distance from Quthing to Sterkspruit is around 48 km, businesspeople from Quthing must add 191 km (239 km - 48 km) to their itinerary to return via the Van Rooyens Gate. This implies that traders, spend an additional M500 (USD38) for the return trip. With 8 trips per month, Mr. Teboho Mokau therefore incurs in additional costs equivalent to M4,000 (USD308) -M500 x 8-. If Mr. Mokau could cross via Tele Bridge Border, he would spend approximately M2,400 (USD 185) -M300 X 8 trips monthly-. That would cut his monthly transport costs by M4,000 (USD308) -M6,400 - M2,400-.
Mokhotlong District Scenario
According to Mrs. Mathuto Mofana, Owner of Thuto's Boutique, a trip from Mokhotlong to Durban is estimated to be 303 km, where she purchases stock for her business. Since the Sani Pass Border post is not commercialized, she must use Caledonspoort Border (in the Butha-Buthe District) to deliver stock to Mokhotlong, which is quite far. The distance from Durban to Mokhotlong via the Caledonspoort Border is approximately 606 km (432 km + 174 km).
"I purchase stock once a week. A single trip from Mokhotlong to Durban through the Sani Top Border post costs me around M800 (USD61) on fuel. Coming back from Durban to Mokhotlong via Caledonsproot entails spending M1,500 (USD115) on fuel. This means that a return trip from Mokhotlong to Durban costs M2,300 (USD177), which means total costs of M9,200 (USD708) for 4 monthly trips", pointed out by Mrs. Mofana.
Figure 3: Time and distance incurred for travel between Mokhotlong (Lesotho) and Durban (South Africa)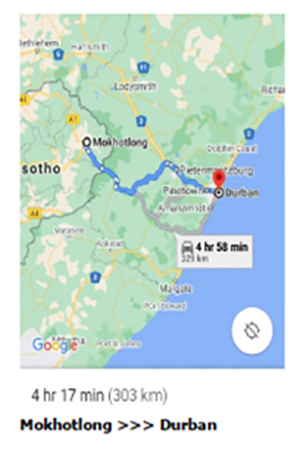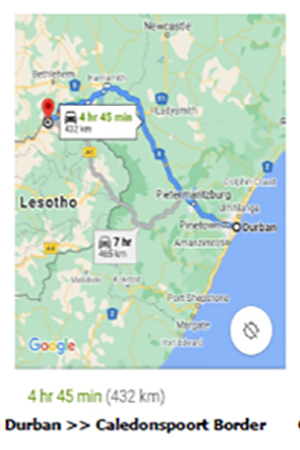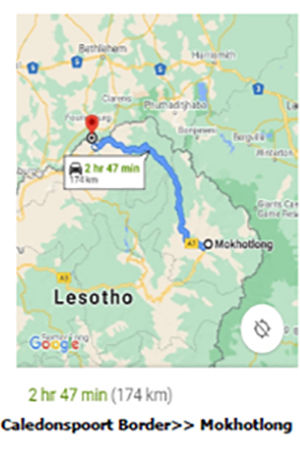 Observation: Travelling between Mokhotlong and Durban via the Caledonspoort Border means that the businesspeople in Mokhotlong must add 303 km kilometres (606 km - 303 km) to their itinerary, which are equivalent to an additional amount of M700 (USD54). With 4 trips per month, the additional travelling costs are estimated at M2,800 (USD215) -M700 X 4 trips-.
Conclusion and intervention needed:
Non-commercialized border posts between South Africa and Lesotho entail significant additional trade costs for businesspeople from the Quthing and Mokhotlong Districts in Lesotho. Modernizing and commercializing the Tele Bridge and Sani Pass Border posts could enable them to do business faster due to the reduction in transport-related costs and the reduction of time on import, export and transit procedures.
[i] M stands for maloti, the plural form of Lesotho's currency, the loti. 1 USD is roughly equivalent to 13 Lesotho Maloti, therefore 5'000M is equivalent to around 385 USD (as of 10 June 2021)
---
Disclaimer:
This article was produced by the author within the framework of the UNCTAD e-Learning for Trade Facilitation program and was selected among many others because of the originality and pertinence of its content.
About the author:
Mr. Thabo Qhesi has been CEO of the Private Sector Foundation of Lesotho since 2011. He has a background of Corporate Governance, Marketing, and Trade Policy. He is currently serving as a member in various Boards including the National Trade Facilitation Committee and SADC Business Council.
---
Disclaimer
This site may contain advice, opinions and statements of various information providers. The United Nations does not represent or endorse the accuracy or reliability of any advice, opinion, statement or other information provided by any information provider, any User of this Site or any other person or entity. Reliance upon any such advice, opinion, statement, or other information shall also be at the User's own risk. Neither the United Nations nor its affiliates, nor any of their respective agents, employees, information providers or content providers, shall be liable to any User or anyone else for any inaccuracy, error, omission, interruption, deletion, defect, alteration of or use of any content herein, or for its timeliness or completeness, nor shall they be liable for any failure of performance, computer virus or communication line failure, regardless of cause, or for any damages resulting therefrom.