Publications
Publications
Handbooks on Market Access and Rules of Origin for LDCs
A three-part series of handbooks on Duty-free Quota-free Market Access and Rules of Origin for Least Developed Countries.
Part I refers to QUAD countries (namely Canada, the European Union, Japan and the United States of America).

Part II covers other developing and developed countries.

Part III covers ASEAN free trade agreements with dialogue partners.
Displaying results 1 - 3 of 3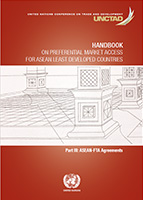 ASEAN-FTA Agreements
UNCTAD/ALDC/2019/5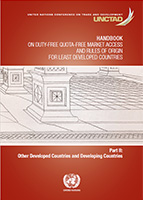 Other Developed Countries and Developing Countries
UNCTAD/ALDC/2018/5 (Part II)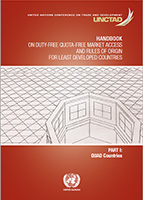 QUAD Countries
UNCTAD/ALDC/2018/5 (Part I)