Publications
GSP - Duty-Free and Quota-Free Market Access
The present handbook reviews the progress made to implement the Hong Kong (China) decision until the Nairobi WTO Ministerial of 2015 and subsequent changes that individual QUAD countries have made to their schemes till 31 December 2017.
Part I focuses on the special provisions in favour of LDCs and related rules of origin, as contained in the GSP schemes of the Quad countries, namely Canada, those of the European Union Japan and the United States.
Part II focuses on the implementation of the Hong Kong (China) Ministerial decision on duty-free and quota-free (DFQF) market access by other developed countries and developing countries.
Displaying results 1 - 3 of 3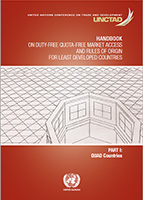 QUAD Countries
UNCTAD/ALDC/2018/5 (Part I)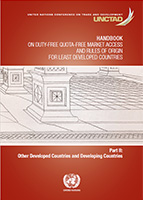 Other Developed Countries and Developing Countries
UNCTAD/ALDC/2018/5 (Part II)