17 May 2023
The UN welcomes the continuation of the initiative, which has moved over 30 million tons of food, helping to bring down global prices and stabilize markets.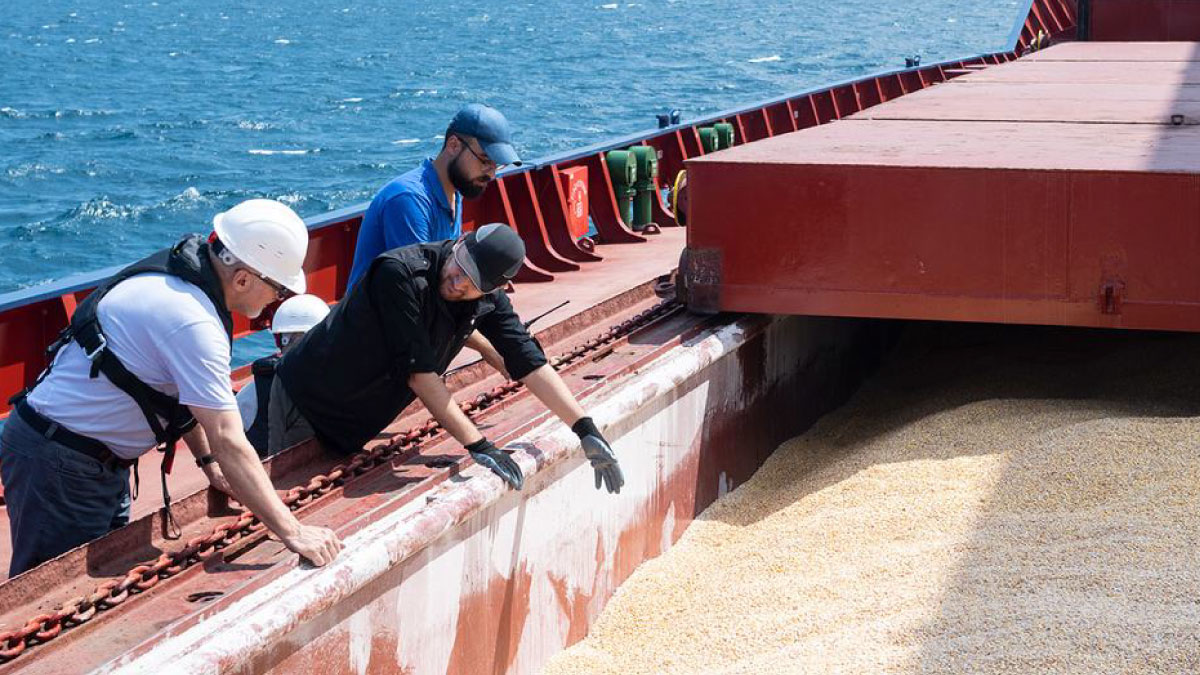 © UNOCHA/Levent Kulu | A joint civilian inspection team comprising officials from Russia, Türkiye, Ukraine and the UN visit merchant vessel as part of the Black Sea Initiative.
The Black Sea Initiative, signed in Istanbul on 22 July 2022 to resume vital food and fertilizer exports from designated Ukrainian seaports, will continue for 60 days.
United Nations Secretary-General António Guterres announced the news on 17 May at the UN daily press briefing in New York, following the confirmation by the Russian Federation to continue its participation in the initiative for another 60 days.
"I welcome this decision," Mr. Guterres said. "The continuation is good news for the world."
He said the importance of the initiative – and the parallel Memorandum of Understanding between the UN and the Russian Federation on promoting Russian food products and fertilizers to world markets – is clear.
"These agreements matter for global food security. Ukrainian and Russian products feed the world."
Under the initiative, more than 30 million tons of grain and foodstuffs have been exported.
Vital food supplies are reaching some of the world's most vulnerable people and places – including 30,000 tons of wheat that just left Ukraine aboard a ship chartered by the World Food Programme to feed hungry people in Sudan.
The agreements matter, the UN chief said, "because we are still in the throes of a record-breaking cost-of-living crisis."
A beacon of hope
Over the last year, the agreements have helped stabilize markets and reduce volatility. Global food prices have fallen by 20% from the all-time high reached in March 2022.
Mr. Guterres said the agreements "demonstrate that, even in the darkest hours, there is always a beacon of hope and an opportunity to find solutions that benefit everyone".
He conveyed his appreciation to all those taking part in the negotiations "in a spirit of constructive engagement".
"I hope we will reach a comprehensive agreement to improve, expand and extend the initiative," Mr. Guterres said.
He added: "Looking ahead, we hope that exports of food and fertilizers, including ammonia, from the Russian Federation and Ukraine will be able to reach global supply chains safely and predictably – as foreseen in both the Black Sea Initiative and the Memorandum of Understanding on Russian food and fertilizer exports – the implementation of which the United Nations is fully committed to support.