01 May 2015
A training needs assessment of consumer rights professionals in Malaysia has been carried out by UNCTAD experts in cooperation with the Malaysian Tribunal for Consumer Claims of the Ministry of Domestic Trade, Co-operatives and Consumerism (KPDNKK).
Four UNCTAD experts ran interviews during the three-day visit in order to cover all institutions in charge of enforcing consumer rights in the areas of product safety and labelling; phone, internet services, and e-commerce; consumer credit and banking; environmental standards; healthcare services; and professional services.
KPDNKK's Reihana Binti Abd Razak, Chair of the Tribunal for Consumer Claims, said it was important to carry out a detailed assessment of training needs, so as to improve capacity to enforcing consumer protection regulations in these six focus areas.
UNCTAD was hosted by KPDNKK in Kuala Lumpur from 20-22 April 2015 as part of an UNCTAD-ASEAN Project on Consumer Protection.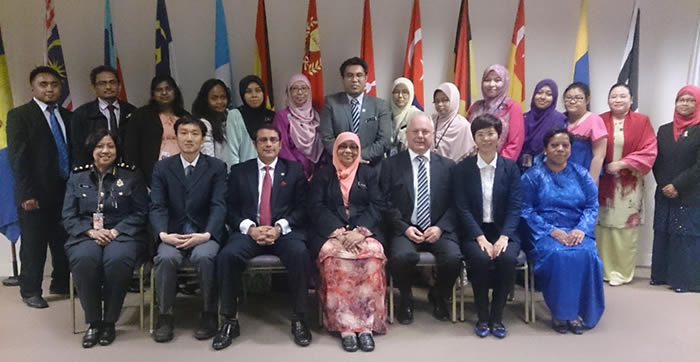 Relevant stakeholders in Malaysia that were interviewed during the UNCTAD field visit (20-22 April 2015)
Institutions taking part included the Department of Standards Malaysia (DSM); the Ministry of Science, Technology and Innovation (MOSTI); the Food Safety and Quality Division (FSQD) and the National Pharmaceutical Control Bureau (NPCB).
In addition, the Ministry of Agriculture and Agro-based Industry (MoAAI), the Federal Agriculture Marketing Agency (FAMA), the Malaysian Communications and Multimedia Commission (MCMC), and the Bank Negara Malaysia (BNM) were also interviewed.
Six detailed surveys were used during the interviews and the results will be used to prepare training materials to cover both the technical and "soft skills" that consumer rights protection professionals require.
The project builds and strengthens the capacity of government agency personnel through the design, development and delivery of training programs, including modular components or materials, focusing on the technical requirements involving the six core areas, as identified in the "Road-mapping Capacity Building Needs in Consumer Protection in ASEAN" project.