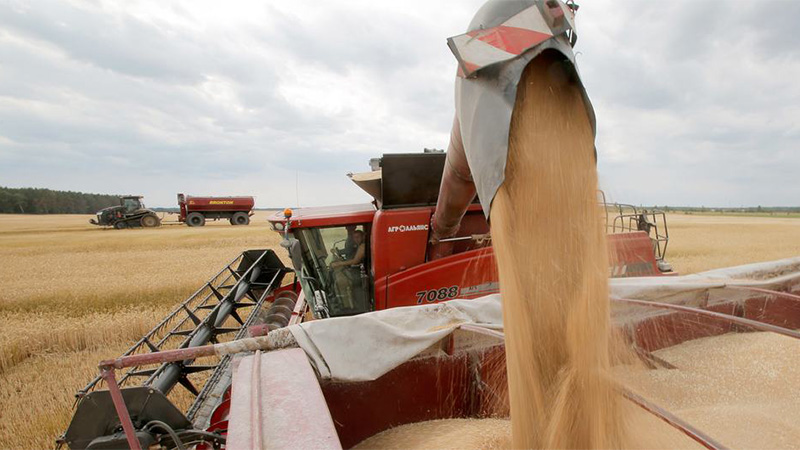 ©FAO/Anatolii Stepanov, Wheat harvest near the Krasne village, Ukraine.
 
The war in Ukraine, in all its dimensions, is producing alarming cascading effects to a world already battered by COVID-19 and climate change. Serious damage is being done to the global economy, and particularly to vulnerable people and developing countries.
The United Nations Secretary-General has established a Global Crisis Response Group on Food, Energy and Finance in the UN Secretariat, with the following policy recommendations:
On Food: We urge all countries to keep markets open, resist unjustified and unnecessary export restrictions, and make reserves available to countries at risk of hunger and famine.

On Energy: The use of strategic stockpiles and additional reserves could help to ease the energy crisis in the short term. But the only medium- and long-term solution is to accelerate the deployment of renewable energy.

On Finance: We need urgent action by the G20 and international financial institutions to increase liquidity and fiscal space so that governments can provide safety nets for the poorest and most vulnerable.
UNCTAD will co-lead the workstream on Finance and coordinate the work of all three workstreams.
More on the Global Crisis Response Group
The Black Sea Grain Initiative
On 22 July, the United Nations, the Russian Federation, Türkiye and Ukraine agreed the Black Sea Grain Initiative, at a signing ceremony in Istanbul.
The initiative was set up to reintroduce vital food and fertilizer exports from Ukraine to the rest of the world. A Joint Coordination Centre was established to monitor implementation.

MoU with the Russian Federation
This MoU was signed between the United Nations and the Russian Federation in Istanbul on 22 July 2022, at the same time as the Black Sea Grain Initiative.
Together they pave the way for food and fertilizer to reach global markets, which will help to stabilize spiralling food prices worldwide and stave off famine, affecting millions.

UN Task Team
The United Nations has established a dedicated Task Team hosted at UNCTAD (UN Task Team) to follow up on the implementation of the Memorandum of Understanding between the Russian Federation and the Secretariat of the United Nations on facilitating unimpeded access of food and fertilizer products originating in the Russian Federation to global markets (MoU), which was signed on 22 July 2022 in Istanbul.
To ease the global food crisis, it is important to urgently address the global fertilizer market crunch. The United Nations already has reports of farmers cultivating fewer crops because of the high price or lack of availability of fertilizers. Without action in 2022, the global fertilizer shortage could quickly morph into a global food shortage next year.
The current sanctions regimes include exemptions related to food and fertilizer trade from the Russian Federation to ensure global food security, and recently the U.S., EU and UK sanctions authorities have issued important policy clarifications to realize this commitment.
The UN Task Team is working closely with relevant authorities to further clarify and fully realize the food and fertilizer exemptions more effectively with the ultimate goal of reducing food and fertilizer prices, reducing transaction costs, stabilizing markets and enhancing global food security.
Please see below a list of key sanctions guidance:
UK: HM Treasury's Office of Financial Sanctions Implementation (OFSI)

General Licence

UK: Department for International Trade (DIT)

General Trade Licence

U.S.: Treasury's Office of Foreign Assets Control (OFAC)

General License 6A

U.S.: Treasury's Office of Foreign Assets Control (OFAC)

General License 6B

U.S.: Treasury's Office of Foreign Assets Control (OFAC)

Fact Sheet ​

on "Preserving Agricultural Trade, Access to Communication, and Other Support to Those Impacted by Russia's War Against Ukraine"

U.S.: Treasury's Office of Foreign Assets Control (

OFAC) Russia-related General License 27 o

n "Certain Transactions in Support of Nongovernmental Organizations' Activities"

U.S.: Treasury's Office of Foreign Assets Control (

OFAC) Food Security Fact Sheet on "Russia Sanctions and Agricultural Trade"

EU:

Consolidated FAQs (specifically p.87-88 on transfer and transport of goods, p.195-196 on fertilizers, p. 269-270 on Maritime Registry)
Statement by UNCTAD Secretary-General on the situation in Ukraine
The war in Ukraine has a huge cost in human suffering and is sending shocks through the world economy.

I want to express solidarity with the millions of men, women and children impacted and displaced by the invasion of Ukraine and I echo the call made by United Nations Secretary-General António Guterres for the conflict to stop now.

This crisis, coming during the global COVID-19 pandemic, is accelerating existing vulnerabilities and widening inequalities across the world.

All countries will be affected by this crisis, but developing countries already hit by the COVID-19 pandemic, rising debt and climate change will be hit especially hard by disruptions in food, fuel, and finance.

Soaring food and fuel prices will affect the most vulnerable in developing countries, putting pressure on the poorest households which spend the highest share on their income on food, resulting in hardship and hunger. This is cause for great concern, as social and political stability and increasing food prices are highly correlated.

Countries, already under severe pressure due to the costs of the pandemic, will see disruption in trade, deficits widen and investment contract. Additionally, significant increase in oil and gas prices can shift investment back into fossil-fuel-based energy generation, which risks reversing the trend towards renewables at a time of acute climate crisis.

All these shocks threaten the gains made towards recovery from the COVID-19 pandemic and block the path towards sustainable development. UNCTAD is committed to supporting developing countries to face these shocks and protect the wellbeing of their populations, specially the most vulnerable.
The impact of the cost-of-living crisis on people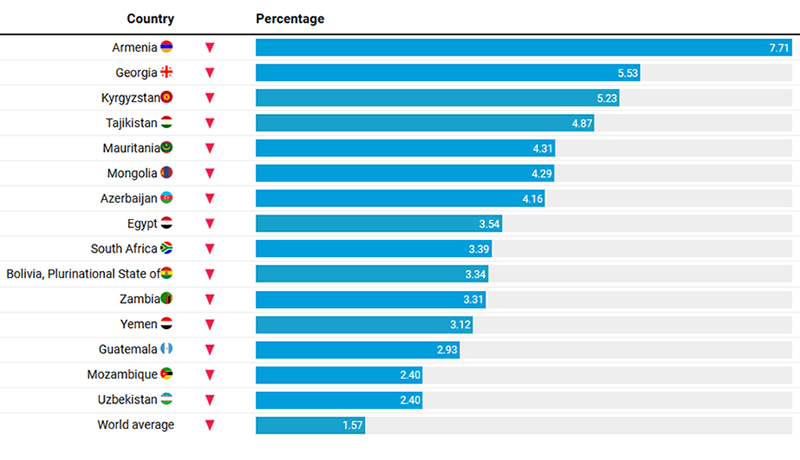 The war in Ukraine has led to a global cost-of-living crisis, which is rapidly constraining household budgets. As food prices rise, incomes at home fall. This has important implications for poverty and hunger levels, educational attainment and energy access.
Featured podcast
In the first episode of the Weekly Tradecast, UNCTAD Secretary-General Rebeca Grynspan talks about the global cost-of-living crisis triggered by the war in Ukraine and what can be done to help vulnerable countries and people who will suffer the most from rising food, energy and fertilizer prices.