We support countries to break away from commodity dependence by diversifying their economies and strengthening non-commodity activities.
Featured Podcast
This episode of the Weekly Tradecast talks about how climate change endangers our food supplies across the globe with Janvier Nkurunziza, head of UNCTAD's commodities branch.
Commodities and Development Report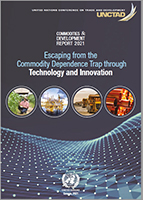 The report provides in-depth analysis of topics of particular interest to commodity dependent developing countries and presents proposals. It sheds light on different issues inherent to the subject.
Published since 2012, the series is intended to support development practitioners, civil society and government partners in their work. These report will also be useful for civil society, researchers and various policymakers.

Commodities at a Glance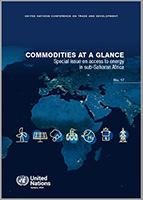 Commodities are products stemming from agricultural production or mining production that have not yet been transformed: agricultural products, tropical beverages, energy, minerals, ores and metals.
The series aims to collect, present and disseminate accurate and relevant statistical information linked to international primary commodity markets in a clear, concise and reader-friendly format.

The State of Commodity Dependence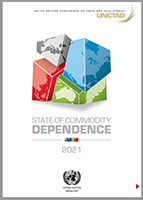 This series provides a bird's eye view of commodity dependence in the world. It contains 189 individual country profiles, each comprising of 30 indicators under 4 subtitles — mechandise and commodity export dependence, commodity import dependence, key socio-economic indicators, and other structural indicators.
As commodity dependence tends to negatively affect poverty alleviation and food security, a set of indicators is included to help monitor trends in these areas.

World commodity trends and prospects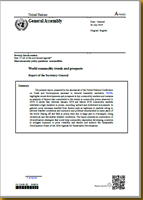 Report on the assessment of commodity trends and prospects, long-term commodity prices and ways to strengthen coordination among international commodities organizations and other relevant international organizations.
The Report is prepared by the secretariat of UNCTAD, for submission to the General Assembly at its annual session.

Documents and publications