Cabo Verde's Creative Economy: Leveraging culture and creativity for sustainable development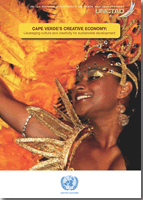 Cabo Verde has a natural competitive advantage to pursue a sustainable development model based on its strategic assets, its cultural and creative goods and services. Cabo Verde has a tremendous cultural diversity and despite its small territorial size, it has a strategic location between Africa, Europe and the Americas. Finally, Cabo Verde has the determination and political will to advance with the creative economy agenda.
This report presents the potential of Cabo Verde to capitalize on its rich cultural expressions (music, festivals, handicrafts, gastronomy, tourism and cultural events) to achieve a real sustainable development through the small scale production of goods and services that favors fair income distribution systems, improves the quality of life of its population, and supports the desire of the youth to enter the contemporary job market while integrating cultural values and creativity.
It is worth highlighting the existing favorable conditions in the country to integrate programs and actions that facilitate the formulation, implementation and monitoring of policies for the creative economy focused on qualitative creation / production of goods and services for export (circulation/ distribution/ dissemination).
---