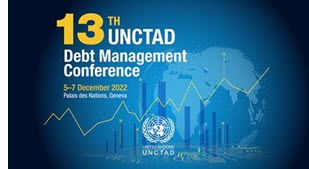 The biennial 13th UNCTAD Debt Management Conference took place from 5 to 7 December 2023 in Geneva. 
This conference is the biggest of its kind for debt management experts and practitioners and was attended by 531 participants (432 in-person and 99 online) from 102 countries, international institutions, and by representatives from NGOs and academia.
Ms. Rebeca Grynspan, Secretary General of UNCTAD, opened the conference.  Keynote messages were also delivered by high officials from Barbados, Bolivia, Colombia and Sri Lanka including Ministers of Finance.
In a context of cascading crises, inequalities, and chronic instability, Ms. Rebeca Grynspan   shared her concerns that "funding gaps for SDG investments in developing countries are increasing, and debt burdens are becoming unbearable for many countries of the Global South." Sharing Latin America's experience in the 1980s, she said that countries that are in debt distress are going through great suffering that is measured in a decade of lost progress.
In her view, "debts are unsustainable if the only way to pay for them is to compromise sustainable development". She warned that the combination of rising debt levels and the tightening of global financial conditions has already caused a dramatic and systematic reduction of the policy space available for developing countries, leading to impossible tradeoffs in a context marred by a pandemic, geopolitical instability, and climate distress. She also noted that public debt levels have increased dramatically, debt servicing requirements, in combination with rising borrowing costs and currency composition of debt in the context of an ever-stronger US dollar, are placing an enormous strain on public budgets around the world.
She concluded that there was a systemic debt crisis that has become unsustainable and which compromises sustainable development, stating that "Debt cannot and must not become an obstacle for achieving the 2030 agenda and the climate transition the world desperately needs".
She reaffirmed UNCTAD's commitment through its three pillars: 
Technical assistance delivered by its Debt Management and Financial Analysis System (DMFAS) Programme. 
Research and analysis in debt transparency, supporting the establishment of a publicly accessible registry of debt data for developing countries following the UNCTAD Principles on Responsible Sovereign Borrowing and Lending
Intergovernmental machinery for which UNCTAD promotes the creation of a multilateral legal framework for debt restructuring and relief to facilitate timely and orderly debt crisis resolution with the involvement of all creditors building on the G20 common framework.
During the conference, presidents, ministers, debt management officials, renowned debt experts, and other participants addressed the following topics: 
-    PANEL 1: Debt crises in developing countries – a 'new normal' or time for substantive debt relief?
-    PANEL 2: The multiple dimensions of assessing debt sustainability: From climate change to the Sustainable Development Goals
-    PANEL 3: Debt crisis resolution I: Recent developing country experiences
-    PANEL 4: Debt crisis resolution II: What should the international debt architecture look like in five years' time?
-    PANEL 5: Debt transparency as a public good: Re-visiting lender and borrower responsibilities
-    PANEL 6: The role of Fintech for sovereign debt management in developing countries
-    PANEL 7:  Operational Risk Management in Debt Management Offices 
-    PANEL 8: Integrating debt management within Integrated Financial Management Information Systems 
-    PANEL 9: Capacity-building needs in debt management: Responses from international organizations
Presentations and interventions are available in the 13th UNCTAD Debt Management Conference page.