Version française  -  Versión española
The Government of Lao PDR and UNCTAD's DMFAS Programme signed a new technical assistance project in September 2020. The project is financed through the World Bank's Public Financial Management programme in Lao PDR. Its objective is to strengthen the Lao government's capacity to manage the country's public debt, notably through the upgrade to the latest DMFAS version (DMFAS 6) at the Ministry of Finance (MoF). To ensure the quality of the Lao debt database, the debt managers will be trained in the debt data validation methodology and will implement the validation process with UNCTAD support.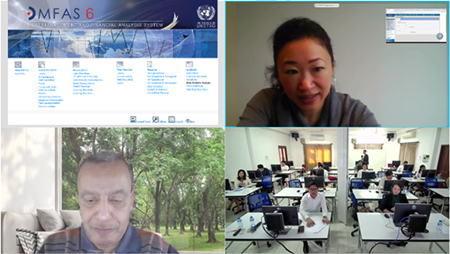 Due to the current COVID-related travel restrictions, the implementation of DMFAS 6 and the technical and functional training are conducted entirely remotely, through video calls, remote access and online training. The conversion of the DMFAS database and the installation of DMFAS 6 in the MoF's servers were conducted from Geneva in close collaboration with the MoF's IT Department as well as the Department of External Finance and Debt Management (DEFDM) in December 2020. The technical and maintenance training as well as the basic functional training were delivered remotely in January and February 2021. 
The MoF of Lao PDR first became a DMFAS user-institution in 2011 with the implementation of a technical assistance project with UNCTAD support in the area of public debt management. Since then, the DMFAS Programme has maintained a close collaboration with the Lao MoF's DEFDM, whose staff members have regularly participated in the biennial UNCTAD International Debt Management Conference as well as in other events such as the MTDS workshops that UNCTAD co-organized with the World Bank.
At the end of the current project, it is expected that the DEFDM staff will effectively manage the country's public debt using DMFAS 6, and that the debt database will be up-to-date and providing reliable information for statistical and analytical purposes.