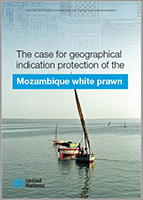 This study analyses the Mozambique experience of protecting and promoting fisheries with an emphasis on exploring geographical indication (GI) protection for the white prawn of Mozambique. It is achieved through an in-depth review of data collected from local stakeholders, reports based on past technical support provided by UNCTAD, the literature on GIs, and international and regional treaties and reports, among others. Fishery products such as Mozambican prawns are highly recommended for GI certification, as they have high demand from both local and international consumers.
GIs hold great importance to least developed countries (LDCs) such as Mozambique, which have potential products that would receive special status for their unique qualities and would be able to promote those in international markets and generate revenues.
The Mozambique white prawn (Penaeus indicus), found in shallow waters, is the product with the highest commercial value in Mozambique, contributing to the generation of profits, net income in foreign exchange, the balance of trade of the country, employment, and improvement of the diet of the population.
The review and analysis, presented in the form of a technical specification for the Mozambican white prawn registration, confirm that it fulfils the Mozambican national legislation for GI protection. In line with the Mozambican government's commitment to rural development and improving people's lives, the study suggests using GI as a tool for sustainability in Mozambican rural areas. This can be achieved by strong coordination between local actors, relevant stakeholders, and institutional structures to market, monitor, and maintain GIs.
The study recommends that all actors be appropriately trained for them to perform their designated roles. For them to achieve their tasks, they should form external collaborations with national and international agencies and bodies to receive technical support and international financial aid.
To this end, the draft technical specifications prepared in this study must be discussed through the workshop by bringing together all stakeholders and interest groups working on fisheries. Such an arrangement will allow 'community ownership' in protecting and promoting the white prawn as a GI in Mozambique.