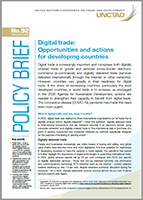 UNCTAD Policy Brief No. 92
Digital trade is increasingly important and comprises both digitally ordered trade in goods and services (cross-border electronic commerce (e-commerce)) and digitally delivered trade (services delivered internationally through the Internet or other networks). However, countries vary greatly in their readiness for digital trade.
If the share of developing countries, particularly the least developed countries, in world trade is to increase, as envisaged in the 2030 Agenda for Sustainable Development, actions are needed to strengthen their capacity to benefit from digital trade.
The coronavirus disease (COVID-19) pandemic has made this need even more urgent.
Key points:
Digital trade – trade in goods and services that are digitally ordered and/or digitally delivered – accounts for a growing share of international trade, which increased during the pandemic.


Digitalization creates new trade opportunities and the potential to support resilience in times of disruption, yet economies and firms with low levels of digital preparedness risk falling further behind.


Ensuring more inclusive outcomes from digital trade requires a holistic and coordinated approach to formulating and implementing relevant policies, often supported by development assistance.