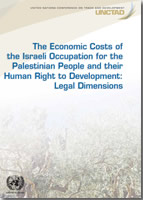 This study was prepared in response to four United Nations General Assembly resolutions (69/20, 70/12, 71/20 and 72/13), which request UNCTAD to assess and report on the economic costs of the Israeli occupation for the Palestinian people.
The study draws attention to the Israeli actions that impose costs for the Palestinian people in relation to the economic and development issues under international law, namely The Hague regulations, the Fourth Geneva Convention, the International Covenant on Economic and Social Rights and the Law of human rights.
According to the study, Israel, as the occupying power, has obligations under international law not only to avoid obstructing Palestinian development, but also to take affirmative actions to foster development in the Occupied Palestinian Territory. These obligations are also owed to the international community. This in turn implies that the international community bears an obligation to support economic development for the Palestinian people, help bringing an end to the occupation and reversing its harmful economic legacy.
The study recommends a rights-based approach to the question of economic development in the Occupied Palestinian Territory whereby the international community as a whole lives up to its obligation to promote Palestinian economic development since, under occupation, the State of Palestine is not in a position to adequately and fully undertake the tasks required to facilitate the development of its population.