Private sector investment is critical to advancing the SDGs. Stock exchanges are strategically positioned to leverage the private sector's contribution to the 2030 Agenda. Acting at the interface of investors, companies and government policy, stock exchanges can contribute to the SDGs in two primary ways: they can mobilize investment in the SDGs on a meaningful scale and they can influence the actions of listed companies through listing rules, market education and other practices that promote responsible business behaviour.
The Sustainable Stock Exchange (SSE) initiative is a partnership progamme supported by UNCTAD, Global Compact, Principles for Responsible Investment and the UN Environment Programme Finance Initiative.
It examines how stock exchanges can work together with investors, regulators and companies to enhance corporate transparency – and ultimately performance – on environmental, social and corporate governance issues and encourage sustainable investment.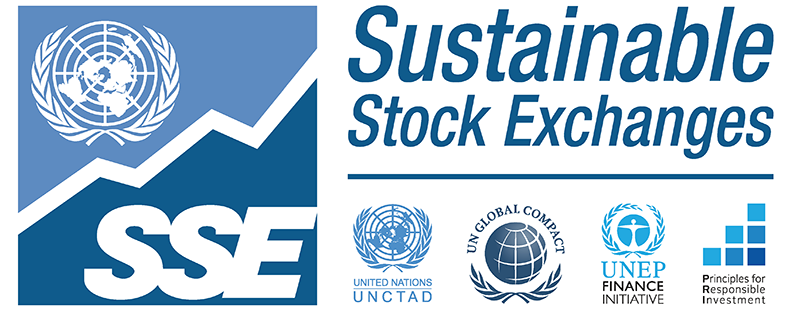 One of 'world's best sustainability ideas'
Forbes Magazine named the initiative as one of the "world's best sustainability ideas". Established in 2009, the initiative has grown into a global partnership platform comprising most of the world's stock exchanges, including all the largest ones.
Since its launch, the SSE initiative has provided stock exchanges with a global peer-to-peer learning platform, facilitated partnerships and provided technical assistance on new challenges and best practices.
This has made the SSE initiative a strong catalyst for behavioural change and directing capital markets towards SDG-oriented outcomes. The financial sector's reception of this change is reflected in the robust way in which the SSE has expanded.
In 2021, the SSE initiative included 114 members, listing 56,783 companies with a combined domestic market capitalization of $91 trillion. There are now 62 stock exchanges with written guidance on sustainability reporting (in line with SDG 12.6.1), up from just 14 when the SSE started encouraging exchanges to do this in 2015.
Exchanges are continuously increasing their sustainability activities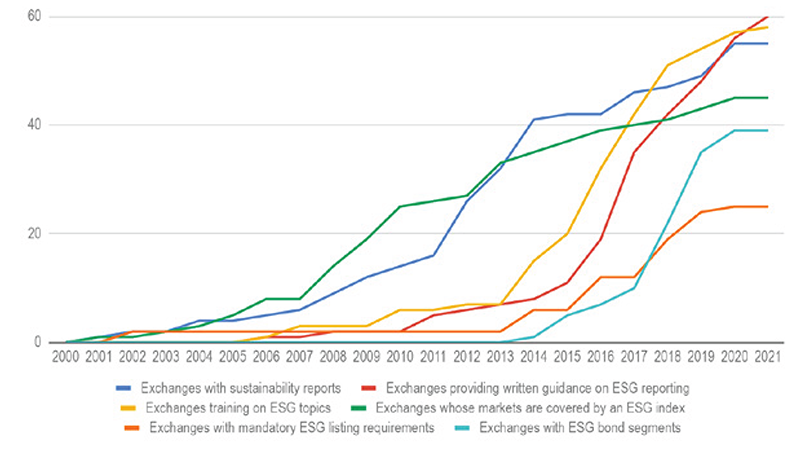 Source SSE data
Guidance documents to promote sustainability
In 2021, research by UNCTAD and its partners produced three guidance documents entitled: "Model Guidance on Climate Disclosure" (in collaboration with UN Special Envoy on Climate Action and Finance), "Action Plan to Make Markets Climate Resilient" and "How Derivatives Exchanges Can Promote Sustainable Development".
These were complemented by four policy briefs entitled: "Gender equality on corporate boards", "Stock exchange guidance on human rights disclosure", "The net zero movement" and "Carbon emissions in public markets".