23 - 24 February 2016
Muscat
, Oman


​The transition to a greener development path is expected to make increasing contributions to economic growth, poverty alleviation and environmental sustainability. In this view, international trade can play an enabling role in facilitating the emergence of green sectors. It is in this perspective that UNCTAD and the Government of Oman have initiated a National Green Export Review (NGER).

The first workshop of Oman's NGER will take place on 23 and 24 February 2016 in Muscat. Jointly organized by UNCTAD and Oman's Ministry of Commerce and Industry, and supported by the FAO and ESCWA, this event will bring together representatives from government, private sector and academia to collectively review a range of promising green sectors.  During the workshop, participants will explore approaches to increase value added and boost production and exports of selected green goods and services. Discussions will make due reference to national development plans and priorities.

As a result of the workshop, stakeholders will select the priority green sectors that will be further analyzed and supported in the framework of the NGER.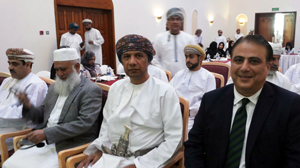 There is some issue in accessing document path, Please contact to Site Admin
Co-organizer(s):
Government of Oman
Sponsor / funding:
UNCTAD and the United Nations Development Account
---

Language(s)
English | العربية |