07 June 2017
The World Investment Report 2017 will present foreign direct investment (FDI) trends and prospects at global, regional and national levels.
With the subtitle Investment and the Digital Economy, the Report will investigate the internationalization patterns of digital multinational enterprises, as well as the effect of digitalization on global companies across all industries.
It will provide insights to policymakers on how the digital economy impacts investment policies and how investment policy can support digital development, with a view towards achieving the SDGs.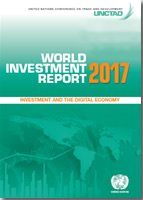 The Report is under embargo until
5 p.m. GMT on 7 June 2017
There is some issue in accessing document path, Please contact to Site Admin
There is some issue in accessing document path, Please contact to Site Admin
---