06 - 08 December 2017
Lusaka
, Zambia
​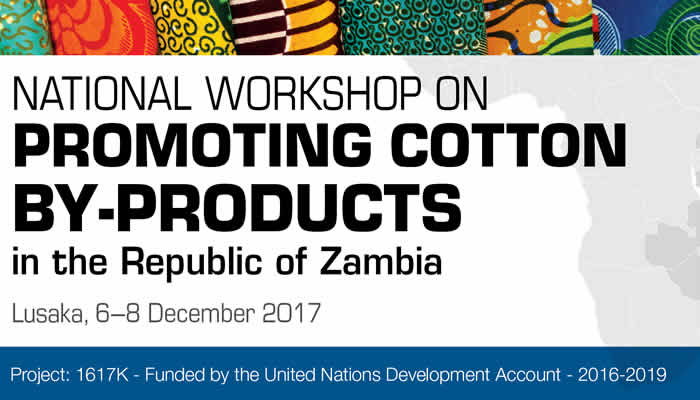 The United Nations Conference on Trade and Development (UNCTAD), with the support of its partners, the United Nations Economic Commission for Africa (UNECA) and the Common Market for Eastern and Southern Africa (COMESA), designed a project to address some of these challenges, in particular to fill the data and policy gaps that restrain the development value addition activities on cotton by-products.

UNCTAD is implementing the project in four ESA countries: Tanzania, Zambia, Uganda and Zimbabwe. The Ministry of Commerce and Industry is the project's government focal point in Lusaka.

To address the data gap in Zambia, the project commissioned a survey on cotton by-products in the country (Activity 1.1). The survey findings and final report will inform the project's subsequent activities, including a three-day national capacity-building workshop.

The workshop will comprise a two-day programme on 6-7  December for stakeholders to identify opportunities in cotton by-products and devise strategies to realise them (A 1.3), followed by a one-day workshop on 8 December for policy-makers to identify policies to support these strategies (A 2.1).
There is some issue in accessing document path, Please contact to Site Admin
Co-organizer(s):
In partnership with UNECA and COMESA
Sponsor / funding:
10th Tranche of the UN Development Account (project 1617K)
---