15 June 2021
15:00 - 16:00 hrs.
Online
Background and objectives:
UNCTAD participated in the review meeting of the World Bank Diagnostic Trade Integration Study (DTIS) concept note on 15 June 2021, providing peer review comments to the study concept among other selected peer reviewers and partners. 
Results achieved:
The meeting brought together selected official DTIS peer reviewers, incl. UNCTAD, as well as other partners and World Bank officials working in or with Angola. As a result of the fruitful discussions, the World Bank integrated most of the recommendations of the peer reviewers. It was agreed that further collaboration with UNCTAD will be developed in the area of productive capacities analysis, research on fisheries and aquaculture, transport and logistics systems review, investment policy review and various other work streams.
***
Antecedentes e objetivos:
A CNUCED participou da reunião de revisão da nota conceitual do Estudo Diagnóstico de Integração do Comércio do Banco Mundial em 15 de junho de 2021, fornecendo comentários de revisão por pares ao conceito do estudo entre outros revisores e parceiros selecionados.
Resultados alcançados:
A reunião reuniu revisores oficiais selecionados para o estudo, bem como outros parceiros e funcionários do Banco Mundial que trabalham em ou com Angola. Como resultado das discussões frutíferas, o Banco Mundial integrou a maioria das recomendações dos revisores. Foi acordado que será desenvolvida mais colaboração com a CNUCED na área de análise de capacidades produtivas, pesquisa sobre pesca e aquicultura, revisão de sistemas de transporte e logística, revisão de política de investimento e vários outros fluxos de trabalho.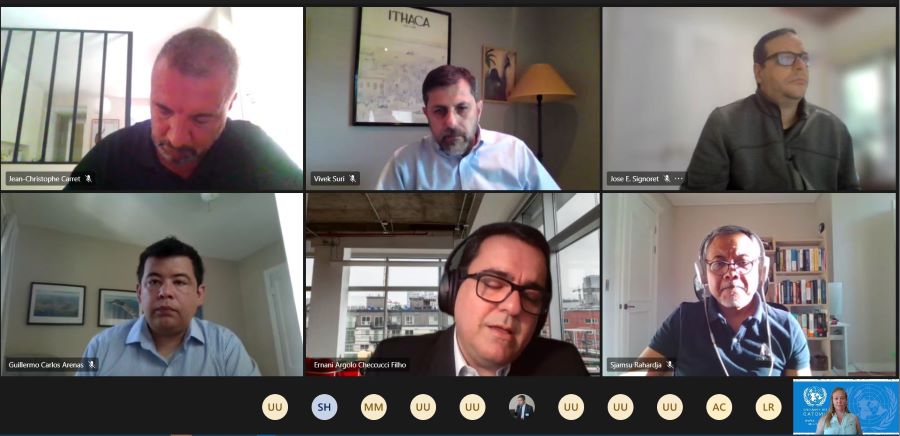 There is some issue in accessing document path, Please contact to Site Admin
There is some issue in accessing document path, Please contact to Site Admin
Co-organizer(s):
World Bank
Sponsor / funding:
European Union
---

Contact
Johanna Silvander
Programme Management Officer