23 November 2012
UNCTAD was invited to make a presentation on the session under the theme: The creative industries and international trade highlighting the main sectors with export potential in the Asia/Pacific region.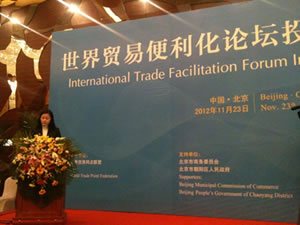 Organized by Beijing Chaoyang District Commission of Commerce and Trade Point Beijing and supported by Beijing Municipal Commission of Commerce and Beijing People´s Government of Chaoyang District.
Participants included: trade promotion organizations, Trade Points from 25 countries and the Chinese business community.
Outcome
Given the trade dynamics of creative goods and services in international trade, the Trade Point Network (WTPF) is including in its five-year operational plan of action (2012-2016), the promotion and investment in creative industries through its Trade Point offices around the world.
UNCTAD is supporting the implementation of the Operational Plan with regards to creative industries and the Trade Point network with information on creative industries global trends and trade performance, networking and partnerships.