05 July 2018
The battle for audio-visual rights to sports events is as fierce as the action on the field, and competition regulators in developing countries must be prepared to play the game
With half the globe glued to screens for the soccer World Cup, the rise of mobile and streaming technologies and evolving economic models – not to mention the staggering amounts of money involved – have raised new competition issues for consumers in developing countries that will be examined at a special session during a three-day meeting of experts organized by UNCTAD.
The battle for the right to broadcast events like the World Cup – now entering its last week in Russia – is as fierce as action on the field, with broadcasters bidding billions of dollars.
For example, fees for the World Cup have increased by more 900% in the last 20 years. And the sale of audio-visual rights has become, at 40–60%, one of the main revenue streams for professional sports, along with sponsorships, ticket sales and merchandising.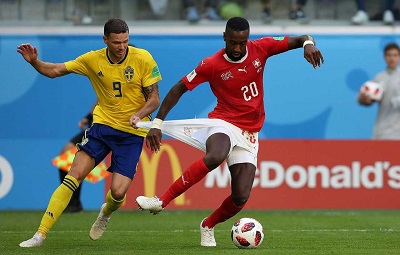 Now, streaming services like Amazon, Facebook, Twitter, YouTube, Verizon and Yahoo are joining the market for sports rights auguring a major shake-up of the market, reports Variety.
"Professional sports like football, cricket, basketball, boxing, baseball, motor racing and Olympic events are already drawing billions of viewers in developing countries – on TVs, computers and phones," says Teresa Moreira, who heads UNCTAD's work on competition law and policy.
"But, with rightsholders entering new markets, new dominant positions are being established and risk leading to abusive practices," she said. "Also, the spread of cheaper viewing technology brings growing opportunities for piracy and illegal streaming."
Fixing the goalposts
The scale of the challenge faced by sporting event broadcasters in combating piracy is shown by the fact that more than half of millennials watch illegal streams of live events.
According to one survey, 54% of millennials have watched illegal streams of live sporting events and a third admit to regularly watching them.
The sale of audio-visual rights has also sometimes required governments to decide which events should be broadcasted on free television so that consumers could watch national and international leagues competition without having to pay.
In a paper submitted to the meeting, for example, author Joseph Wilson, the former chairman of the Pakistan competition commission and McGill University professor, says that broadcast liberalization in Pakistan brought "new choices but also highlighted the complex interplay of rights of various actors".
The competition issues that arise are relevant both for developed and developing countries due to the shared interest of viewers in broadcast events and the transition to digital broadcasting systems in most developing countries.
Levelling the playing field
Technological convergence has promoted competition, and competition authorities in several developing countries have therefore faced market access issues and anti-competitive practices in recent years.
The regulatory challenges faced by more experienced competition authorities and the decisions undertaken may serve as important references for small and young authorities addressing restrictive practices.
"These and many other emerging issues invite a policy response that competition regulators in developing countries can consider now," Ms. Moreira said.
Speakers at the 12 July round table include:

Anna Chanduvi, Football Business Academy professor and sports media expert

Javier Tebas Mendrano, chairman of La Liga, the top tier of Spain's professional soccer league

Seong Sin Han, head of marketing and legal services of the Union of European Football Associations (UEFA)

Andrew Ryan, head of media, legal and business affairs of the International Olympic Committee (IOC)

Nuno Rocha de Carvalho, Member of the Board, Portuguese Competition Authority,

Krzysztof Kuik, Chief of Unit, Directorate-General for Competition, European Commission
The UNCTAD event has a role in helping determine how United Nations member States formulate competition law and policy in response to changing times and evolving new markets. It also has a role in reviewing implementation of the United Nations Set of Multilaterally Agreed Equitable Principles and Rules for the Control of Restrictive Business Practices.
The meeting is preceded by the 3rd Session of the Intergovernmental Group of Experts on Consumer Protection Law and Policy on 9–10 July and the 9th Meeting of the UNCTAD Research Partnership Platform on 11 July in the morning. There is also a programme of side events that will expand on themes explored in the main sessions.
​