16 June 2023
The high-level forum will focus on ways to make supply chains more efficient, resilient and sustainable.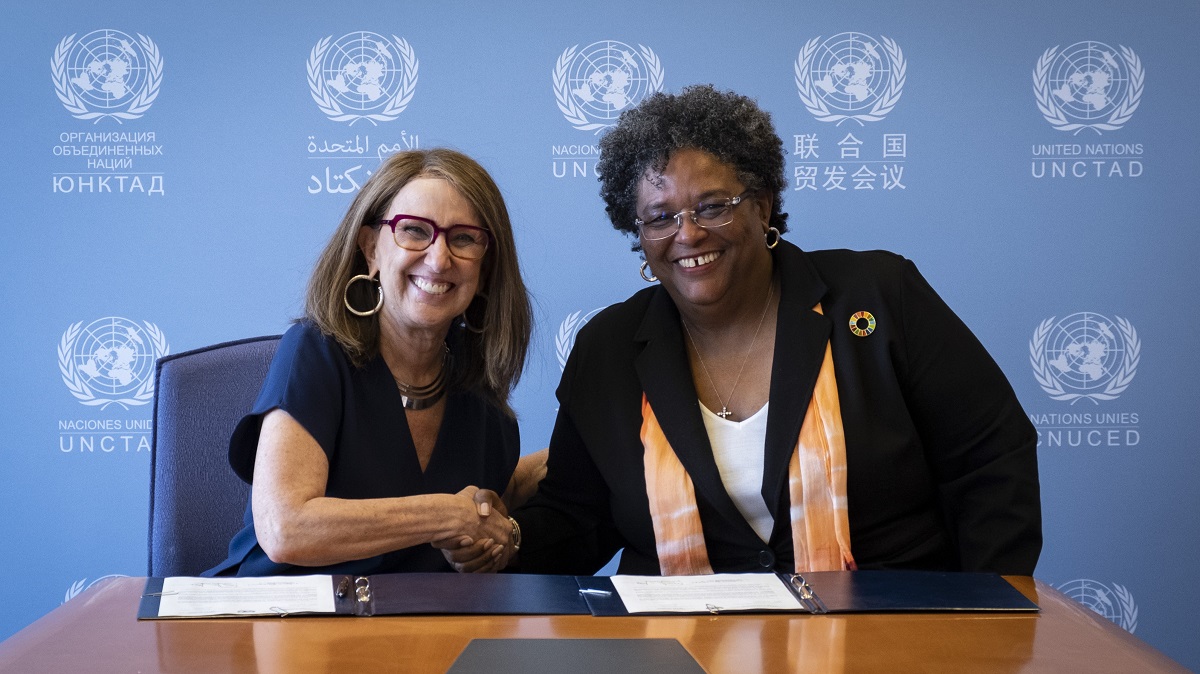 © UNCTAD | Rebeca Grynspan (left), Secretary-General of UNCTAD, and Mia Amor Mottley, Prime Minister of Barbados, at the Palais des Nations in Geneva, Switzerland on 16 June 2023.
UNCTAD and the Government of Barbados will hold the first Global Supply Chain Forum in the country's capital, Bridgetown, from 21 to 24 May 2024.
Government officials, business leaders and experts will explore how to promote development through sustainable and resilient transport and logistics, improved connectivity and trade facilitation.
They will address digitalization, food security, transport costs, climate change, developing countries' financing needs and how to better manage the energy transition in international transport.
"To help resolve the current cascade of global crises and prepare for the future, we need shipping and supply chains to be more efficient, more resilient and far greener," UNCTAD Secretary-General Rebeca Grynspan said.
"Strong, resilient and predictable supply chains will be critical to help developing countries manage the ongoing impact of the poly-crisis," said Matthew Wilson, ambassador of Barbados to the United Nations in Geneva.
He said the forum will offer countries a platform to create solutions that support climate change adaptation, food security and economic growth.
Maritime trade bears brunt of crises
For the last three years, COVID-19, the war in Ukraine, climate change and geopolitics have wreaked havoc on maritime transport, logistics and cross-border trade.
The confluence of crises has clogged up ports and closed others, reconfigured routes, extended delays and raised shipping and logistics costs.
Ships deliver over 80% of world trade, so disruptions in ports and on shipping lanes mean food, energy, medicine and other essential items don't reach those in need. Populations and businesses are left without supplies. And prices for producers and consumers soar.
Developing countries hit hardest
Economies far from the main lines of trade – small island developing states, landlocked developing countries and some countries in Africa, Asia-Pacific, the Caribbean and Latin America – are hit the hardest by supply chain disruptions.
With the impending energy transition in international transport, especially in air and maritime shipping, further disruptions may occur, hence the need to prepare global supply chains better.
Policy actions
The forum will focus on the policy actions required to better prepare countries to cope with future shocks to global supply chains.
The event responds to a call by Prime Minister of Barbados, Mia Amor Mottley, during the 15th UNCTAD ministerial conference, urging the world to build resilient supply chains in developing countries. This call is underlined by the Bridgetown Covenant adopted at the conference.
The forum also responds to a call by the Bridgetown Initiative for urgent and decisive steps to tackle the unprecedented combination of crises facing the world.
The event will be held in person and selected sessions will be streamed online.
UNCTAD invites interested partners and stakeholders from the public and private sectors to express their interest in participating, sponsoring or contributing to the event.