03 May 2017
Written by Julián Fraga and Maria Ceccarelli, UNECEArticle No. 2 [UNCTAD Transport and Trade Facilitation Newsletter N°73 - First Quarter 2017]
From 27-31 March 2017, the United Nations Centre for Trade Facilitation and Electronic Business (UN/CEFACT) held its 29th Forum at the Palais des Nations, Geneva, Switzerland.
What is UN/CEFACT?
UN/CEFACT is an important intergovernmental body of the United Nations Economic Commission for Europe (UNECE) and works on a global level to improve the ability of business, trade and administrative organizations (from developed, developing and transition economies) to exchange products and relevant services effectively. Its focus is on facilitating national and international transactions through the simplification and harmonization of processes, procedures and information flows-thus contributing to the growth of global commerce.
The mandate of UN/CEFAT is to improve, through a worldwide coordination and cooperation, the development of trade facilitation recommendations and electronic business standards (covering both commercial and government business processes) that can foster growth in international trade and related services.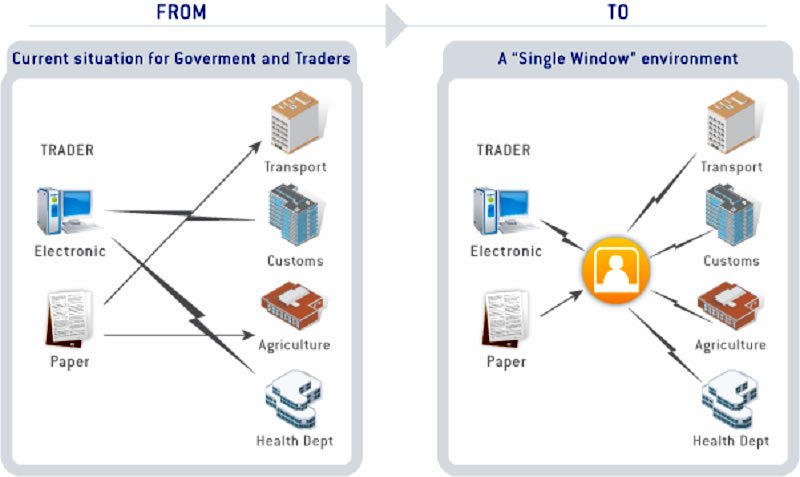 The Forum
During an entire week, more than 120 participants, including Heads of Delegations, UN/CEFACT experts, and private and public sector representatives, had the opportunity to share their experiences and knowledge on trade facilitation and electronic business. Through rich and diverse opportunities, made up of over 50 meetings, participants reflected on issues including Supply Chain Management, International Trade Procedures, Transport and Logistics, blockchain methods applied to Supply Chain Finance processes, and UNECE Standards. Participants also benefitted from engaging in a series of conferences on Single Window Evolution, Trusted Transboundary Electronic interaction, e-Business data exchanges, Trade and Transport location (UN/LOCODE), among others.
The Plenary
Following the Forum, from 3-4 April, UN/CEFACT convened its 23th Plenary, opened to all United Nations Member States,at the Palais des Nations, in Geneva, Switzerland.
The UN/CEFACT Plenary determines the strategy, policy and promotion necessary to carry out the UN/CEFACT mandate. It has been a very productive session, with 4 policy recommendations on trade facilitation, 14 e-business standards and 8 executive guides technical, notes and guidelines on topics such as on Single Window terminology, trade finance as a tool for trade facilitation, women in trade facilitation, tabled for discussion and adoption.
New UNECE Recommendations approved
As one of the results of the Plenary, we are glad to announce the approval of three new UNECE Recommendations:
UNECE Recommendation n°1 on United Nations Layout Key for Trade Documents Recommended Practice & Guidelines. The current revision of Recommendation N° 1 aims to update the previous guidance material on the United Nations Layout Key as well as consolidate this guidance material into a single, comprehensive document.

UNECE Recommendation n°36 on Single Window Interoperability, highlights the issues and offer options for the establishment of Single Window interoperability, whether the national facility is operated by the public or the private sector, and to give examples of best practice. It is based on the provisions of Recommendations n°33 on Single Window implementation, n°34 on data simplification and standardization, and n°35 on the enabling legal environment for Single Window implementation. It also refers to relevant international tools and standards, including UN/CEFACT standards.

UNECE Recommendation n°42 on Trade and Transport Facilitation Monitoring Mechanism, encourages governments, business communities, development partners and international organizations to collaborate in the development of sustainable Trade and Transport Facilitation Monitoring Mechanisms (TTFMMs). Accordingly, this recommendation addresses issues related to institutional arrangements and methodology in designing and implementing a TTFMM.

UNECE Recommendation n°41 on Public Private Partnerships in Trade Facilitation. This Recommendation and its guidelines aim at highlighting the best practices for using PPPs in Trade Facilitation, especially in the context of international agreements and related implementation planning. It describes key aspects and characteristics for PPPs in Trade Facilitation and draws upon the practical experience of practitioners. (UNECE Recommendation n°41 was intersessionally approved in December 2016 and noted during the 23th UN/CEFACT Plenary)
The Recommendations are available in English, French and Russian on the CEFACT website.
For further information regarding:
or contact Mr. Julian Fraga-Campos ([email protected]) Associate Economic Affairs Officer or Maria Ceccarelli ([email protected]), UNECE.
---
Disclaimer
This site may contain advice, opinions and statements of various information providers. The United Nations does not represent or endorse the accuracy or reliability of any advice, opinion, statement or other information provided by any information provider, any User of this Site or any other person or entity. Reliance upon any such advice, opinion, statement, or other information shall also be at the User's own risk. Neither the United Nations nor its affiliates, nor any of their respective agents, employees, information providers or content providers, shall be liable to any User or anyone else for any inaccuracy, error, omission, interruption, deletion, defect, alteration of or use of any content herein, or for its timeliness or completeness, nor shall they be liable for any failure of performance, computer virus or communication line failure, regardless of cause, or for any damages resulting therefrom.