24 December 2020
By Teresa Moreira, Head of the Competition and Consumer Policies Branch, UNCTAD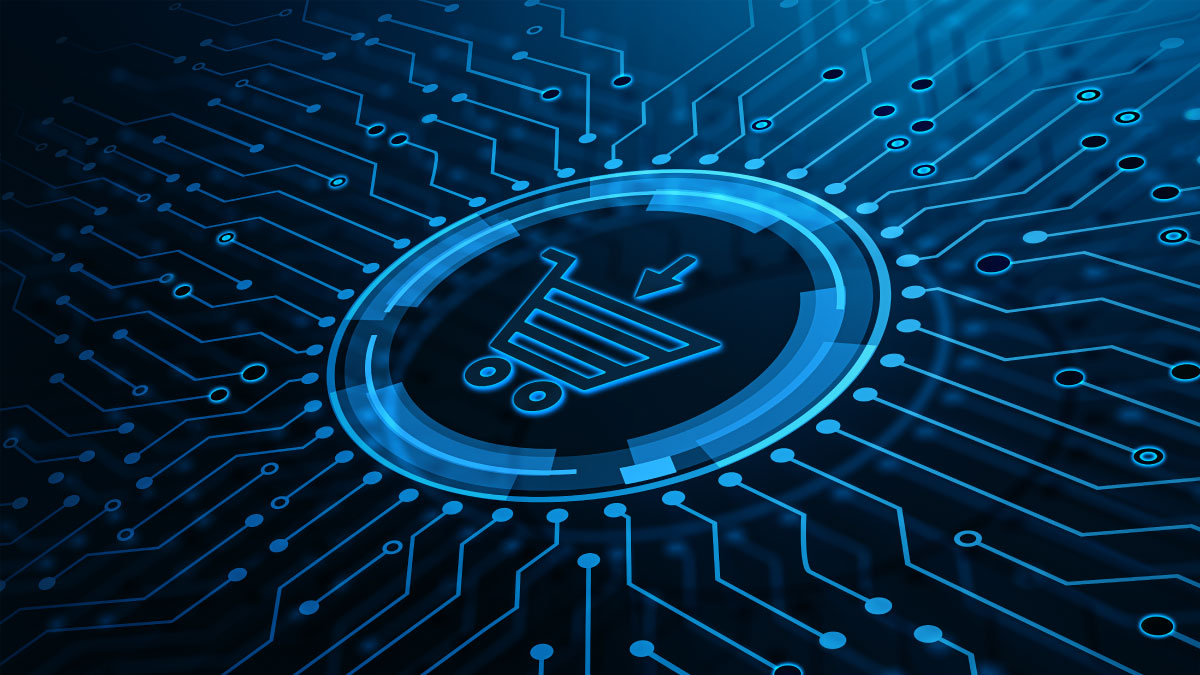 With the COVID-19 pandemic continuing to push economic activities online, governments around the world are increasingly concerned about competition and consumer protection in the digital economy.
When 104 nations met at the Eighth United Nations Conference on Competition and Consumer Protection, there was a growing sense of urgency around reviewing legislation, enforcement and even regulation.
At the heart of the discussions were online platforms, which play an increasingly central role in today's economy – made evident by their rising stock prices.
Thanks to global consumers' gravitation towards online shopping, e-commerce platforms Pinduoduo, Meituan Dianping and Shopify entered the list of global top 100 companies by market capitalization for the first time in 2020, joining the ranks of other digital giants like Amazon and Alibaba.
As of June 2020, seven of the world's top 10 companies by market capitalization are digital platforms, of which five are based in the United States and two in China.  And the market capitalization of technology companies in the global top 100 list increased by 28% between March and June 2020.
Stock prices of leading technological companies, 1 January - 22 September 2020 (1 January = 100)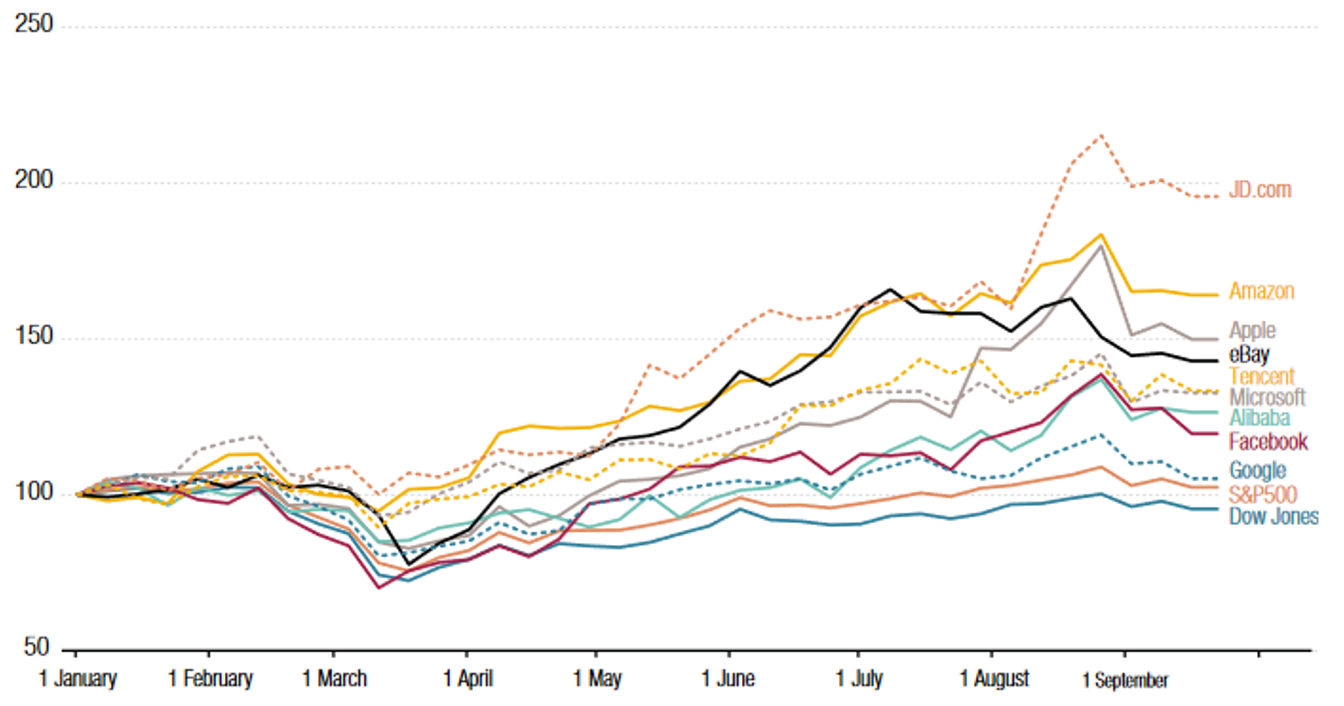 This all raises concerns about market concentration, possible abuse of dominant positions and weakened competition in digital markets.
Restoring competition in platform markets
Government officials attending the conference highlighted that the challenges concerning competition in the digital economy stem from the fact that the power of big data and network effects have created a winner-takes-all digital markets.
During the meeting, India and Turkey presented the results of investigations they had conducted on possible anticompetitive practices by digital platforms.
In one case, Turkey decided to fine Google for abusing its dominant position in the "licensable mobile operating systems" by imposing pre-installation of apps to device manufacturers between 2013 and 2018. Consequently, Google presented a compliance plan that was accepted by the Turkish competition authority.
Because competition investigations take a long time to conclude, the idea of regulating platforms as a way to ensure competition is gaining traction. Germany was one of the first to revise its competition law to ensure a fair and competitive business environment in the digital space. This is also the approach that the European Commission is taking to ensure fair practices by gatekeeper platforms – those that sell products from other companies and thus can determine how and whether third parties have access to their customers.
Further, there is need to regulate the behavior of online platforms that could be categorized as an unfair trade practice or abuse of a superior bargaining position. The competition laws in Japan and the Republic of Korea include such provisions, which level the playing field by addressing power imbalances in the business relationship between large platforms and the businesses that use them.
Ensuring access and protection for consumers
The Chinese online retailer JD.com reported a 215% bump in online sales during a 10-day period between late January and early February 2020, compared to the same period in 2019.
Such growth shows how online platforms are becoming the gateway to e-commerce for millions of consumers. There are growing calls for platforms to improve access and protection, especially for vulnerable consumers, such as people who are elderly, poor or have disabilities. The coronavirus pandemic has heightened the urgency of such calls.
The consumer protection agencies of European Union member states issued a common position to encourage and help online platform operators better identify and prevent COVID-19 scams and unfair practices. And Argentinian and Brazilian judges ruled that the platform Mercado Libre should be considered an intermediary and thus has obligations to ensure consumers buying products through its website are protected.
But for platforms to do their part, more must be done to plug the gap between legislation and enforcement.
The European Union is currently revising its toolbox with new laws and enforcement tools that are better fit for the digital era. This includes revising legislation to account for platform liability regimes, product safety, and data protection and portability. It also means updating authorities' enforcement powers to allow them to conduct investigations online and to impose sanctions for breaches of consumer law. And it requires doubling efforts to educate and inform consumers while guiding businesses towards good practices.
Way forward
The conference, which is the highest-level UN gathering to address  competition and consumer protection issues, called on member states to ensure effective consumer protection, promote and protect competition in the digital economy, and facilitate international cooperation between national authorities so they can deal more effectively with fraudulent and deceptive commercial practices and anticompetitive business practices in digital markets.
UNCTAD recommended that governments take thirteen key actions to strengthen consumer protection and competition in the digital economy.
For competition, the organization called on nations to:
Adapt competition tools (laws, regulations, guidelines) to the reality of new digital business models, network effects, access to data, and economies of scale and scope
Reform merger control regimes to enable competition authorities to scrutinize mergers and acquisitions involving dominant platforms
Adopt new regulations or guidelines to deal with big tech platforms using unfair trade practices or abusing their superior bargaining position
Consider ex-ante regulation of dominant online platforms to facilitate market access for new firms as well as switching and multihoming for consumers
Consider ensuring platform neutrality, requiring large platforms that also offer their own products or services to treat all firms, including themselves, neutrally
And for consumer protection, countries should:
Ensure laws and policies are technology neutral
Determine liability and responsibility regimes of digital platforms
Enforce consumer privacy
Strengthen product recalls and the fight against the distribution of hazardous and unsafe products, especially if they have been recalled in other jurisdictions
Undertake education and information campaigns to bolster consumers' digital literacy
Grant enforcement powers to consumer protection agencies to conduct online investigations, including across borders, and impose sanctions
Guide businesses towards best practices and encourage voluntary commitments
Encourage businesses, especially online platforms, to provide online dispute resolution mechanisms for consumer complaints.