07 April 2020
Design and run a digital campaign on the benefits of an online mechanism developed by UNCTAD and the African Union to remove non-tariff barriers to trade in Africa.
What can the Non-Tariff Barriers online mechanism do for African cross-border traders?
The African Non-Tariff Barriers (NTBs) reporting, monitoring and eliminating mechanism allows for African businesses to play an active role in removing obstacles to continental trade.
Through tradebarriers.africa, exporting and importing businesses can now report barriers hindering their ability to trade across borders. Reported barriers are monitored and addressed by national authorities through a coordination mechanism.
This mechanism is part of the African Continental Free Trade Area (AfCFTA) and was adopted by African Heads of State.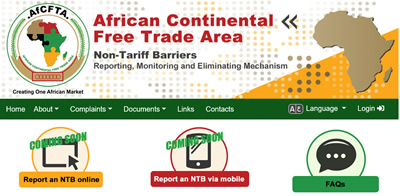 African micro, small and medium-sized companies, informal traders, and youth and women business operators play a crucial role in African trade. They are disproportionately impacted by NTBs due to their limited resources and access to information.
To address this issue and ensure their active participation in the reporting and elimination of NTBs, a six-month social media campaign will be launched in May 2020 across the African continent.
Who are we looking for?
We are looking for communication specialists to design and conduct an innovative and cost-effective social media campaign.
The objective is make African businesses aware and encourage them to report NTBs on the AfCFTA online mechanism.
If you are up to the challenge and have proven experience in designing and conducting social media campaigns targeting African companies, small businesses, entrepreneurs and even informal traders, please send us a detailed proposal including the following elements:
CV & examples (including samples and results) of previously conducted social media campaigns targeting the private sector in Africa

Proposed target regions and list of countries (wider geographic and linguistic coverage is a strong asset; the minimum should be 10 countries)

Overview of the engagement strategy and selected communication channels

Expected results and indicators of achievement

Implementation timeline and effective working time

Estimated budget (Maximum allocated amount for 10 countries is US$ 5'000; or up to US$ 27'000 for all African countries if the capacity to do so is well demonstrated)
Interested experts are kindly requested to send their proposals to : [email protected] by 25 May, 2020.