23 September 2022
UNCTAD chief Rebeca Grynspan highlights how to get more money into the Sustainable Development Goals, which face a $4 trillion annual investment gap in developing countries.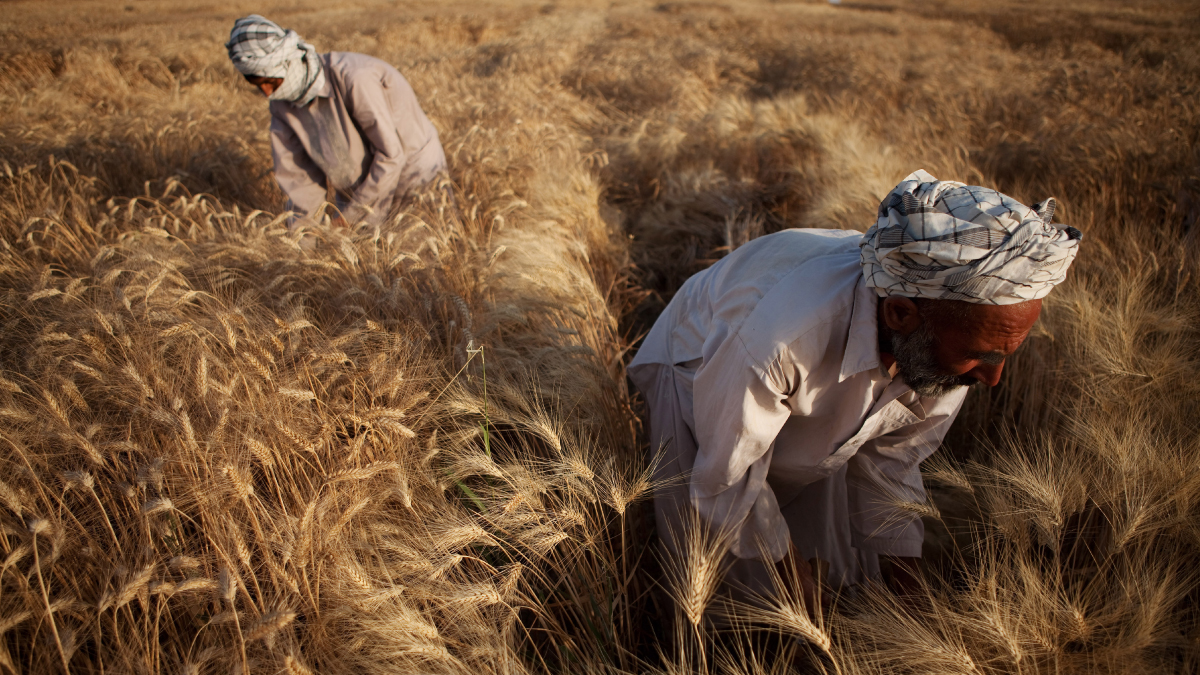 © FAO/Danfung Dennis | A UN project in Afghanistan is helping rice farmers enhance productivity.
Amid cascading crises, more investment in the Sustainable Development Goals (SDGs) is needed to get the world back on track towards a better future, UNCTAD Secretary-General Rebeca Grynspan told a meeting of G20 trade and finance ministers on 22 September.
"Investment in the SDGs is a huge opportunity to make things right," Ms. Grynspan said.
When the goals were adopted in 2015, UNCTAD estimated that $2.5 trillion was required to achieve them in developing countries.
Before the COVID-19 shock, progress on investment in the SDGs was seen in several sectors, including transport infrastructure, renewable energy, food and agriculture, health, telecommunications and biodiversity.
But that progress has been rolled back. In 2020, international private sector investment flows to developing and transition economies in sectors relevant for the SDGs fell by one third. The gap now stands at about $4 trillion per year.
Ms. Grynspan said climate change, the COVID-19 pandemic and the war in Ukraine had rolled back the increase in SDG investment since 2015.
A brittle and uneven investment recovery
While 2021 saw strong 70% growth in global foreign direct investment (FDI) flows, the recovery has been brittle.
"Investor uncertainty following the war in Ukraine and interrelated crises have put a stop to global FDI growth," Ms. Grynspan said. "UNCTAD now expects global FDI flows to follow a downward trajectory this year."
"Last year's recovery was not only brittle but also highly unequal," Ms. Grynspan added.
Almost 5% of FDI growth in 2021 was concentrated in developed countries, while only 2.5% of global flows went to vulnerable and small economies.
Also, most of the growth was in mergers and acquisitions – and in the retained earnings of the largest multinationals. Meanwhile, FDI flows to productivity-enhancing greenfield projects remained one fifth below their pre-pandemic level.
And while international investment in renewable energy projects grew in 2021, FDI in other SDG-related sectors in developing economies – for example, infrastructure, health, food and agriculture – saw only a partial recovery, remaining well below pre-pandemic levels.
"These sectors are crucial for sustainable development, but they have generated significantly lower amounts of private sector interest," Ms. Grynspan said.
A clear example is investment in climate change adaptation, which represented just 5% of climate change investment in 2021.
"We need to put more attention to this challenge and make more resources available to these sectors," Ms. Grynspan said.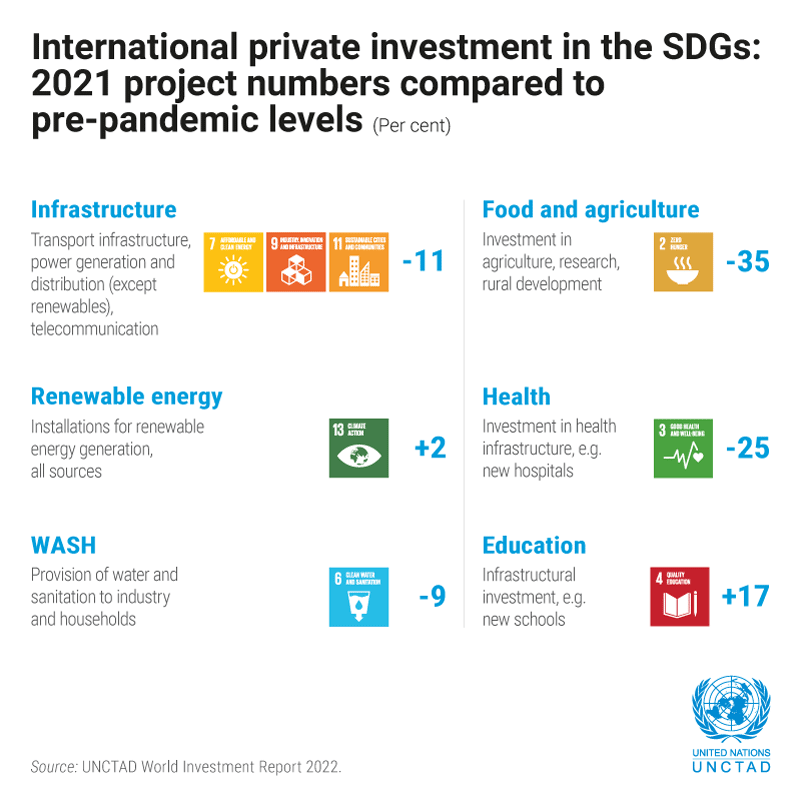 Five main constraints to tackle
Closing the gap requires tackling the principal constraints to investment in the SDGs, especially in developing countries.
A paper prepared by UNCTAD and Indonesia for the first G20 Trade, Investment and Industry Working Group classified these constraints in five broad categories:
Systemic international constrains. These include the decline of multilateral development finance as a percentage of GDP in the Global South, the lack of a structured multilateral mechanism for debt issues in developing countries and the lack of private environmental, social and governance funds directed towards emerging markets.
Political and institutional barriers, such as the absence of clear government policies, or the lack of coordination between the various stakeholders at the national and international levels.
Regulatory barriers, including those related to market structures, the efficiency of licensing and permitting procedures, access to land issues or the rule of law.
Economic and financial barriers, such as those linked to high initial capital costs and high-risk perception in several SDG sectors, inefficient use of incentives and limited markets in developing countries.
Technical barriers, such as those related to low infrastructure investment in the energy sector, distribution and storage issues for renewables, and the quality of operational data and reliability of technical information.
Compendium of best practices
UNCTAD and Indonesia have published the Compendium of G20 Policy Practices in Promoting Sustainable Investment, which offers solutions to these barriers, with concrete examples of policies, strategies and initiatives that have been successful.
"While there are no one-size-fits-all solutions, the compendium could also serve as a reference for international organizations in designing and delivering their technical assistance and capacity-building programmes," Ms. Grynspan said.
"The world is facing daunting challenges, which we can only overcome together. Much depends on the G20 to brave these rough seas. Today, cooperation and multilateralism are not an option. They are an imperative," she concluded.