17 May 2013
Culture, as exemplified by thriving creative industries around the world, has many positive spillovers for human development, UNCTAD's Deputy Secretary-General has said in China.​
"Culture has to feature prominently in global thinking about the world we want," Deputy Secretary-General Petko Draganov told the Hangzhou International Congress on 15 May. The theme being explored by the Congress is Culture: Key to Sustainable Development.
Speaking at a high-level discussion on culture in the post-2015 sustainable development agenda, Mr. Draganov emphasized the role of culture and the creative industries in promoting inclusive development growth and poverty reduction.
He highlighted recent UNCTAD statistics on markets for creative goods and services that are based on local culture, which indicate that the sector has grown dramatically in recent years, at a rate of more than 10 per cent annually. "Creative industry exports reached $624 billion in 2011," Mr. Draganov said.
"While developed countries continue to dominate the market for high-value creative products, exports of creative goods from the South climbed to $184 billion in 2011, underlining the clear potential that this sector has for future growth," the Deputy Secretary-General told the meeting.
He noted that creative industries were often small businesses based on traditional cultural resources and operating at low investment levels. Therefore, he said, governments needed to support the growth of such creative industries, including by instituting policies, and public and private partnerships, as well as strategies to provide access to advanced technologies.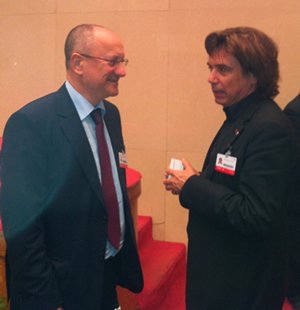 Petko Draganov, Deputy Secretary-General of UNCTAD speaking with  Jean Michel Jarre, French composer, performer and music producer
Mr. Draganov said that culture and the creative industries had many positive spillovers for human development, which included poverty reduction, gender and youth empowerment, and the sustainable use and conservation of natural resource and ecosystems. Hence, culture was key to inclusive sustainable development.
"Collaboration at the international level is important for building on these strengths, including through joint work by UNCTAD, the United Nations Educational, Scientific and Cultural Organization (UNESCO) and the United Nations Development Programme (UNDP)," he said. Collective work between these agencies had gone into the preparation of the Special Edition of the Creative Economy Report 2013, Mr. Draganov noted. He also underlined that UNCTAD, UNESCO and other United Nations agencies could offer a platform through which governments could exchange best practices and highlight policies to foster creative industries in developing countries.
The panel session was chaired by Irina Bokova, Director General of UNESCO, and included His Highness the Aga Khan, and Fazle Hasan Abed, Founder and Chairperson of the BRAC Foundation.
UNCTAD was invited to the conference by UNESCO, the Government of the People's Republic of China, and Hangzhou Municipality. The organization is contributing to deliberations at the meeting that will result in the adoption of an outcome document on The Hangzhou Agenda: Placing Culture at the Heart of Sustainable Development Policies. The aim of the Congress is to inform and influence policymakers with regard to fully integrating culture into the post-2015 United Nations development agenda.