29 March 2019
The phenomenal growth in exports of services that can be delivered online shows the potential of digitalization for businesses in developing countries.
The exports of services that can be provided online, such as insurance, business processes or financial services, grew annually by 7-8% over the past decade and were worth $2.7 trillion in 2017, according to new UNCTAD statistics.
This means that digitally-deliverable services are now worth five times more than information communications technology services.
"These numbers highlight the growing importance of digital technologies for trade in services," said Shamika N. Sirimanne, who directs UNCTAD's work on technology and logistics.
She added that this is the first time the organization has released a dataset dedicated to trade in digitally deliverable services, based on methodology it developed.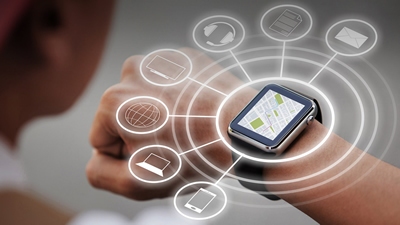 A bigger piece of the pie
Globally, the United States topped the charts of such services with $440 billion, or a 16% of world market share. The United Kingdom and Germany came in second and third.
Although developed economies exported 77% of all digitally-deliverable services in 2017, their share had fallen from 85% in 2005, showing that developing countries are grabbing a bigger piece of the global pie.
In fact, the biggest increase in exports over the past decade occurred in developing economies in Asia, whose collective annual growth rate was 11% between 2005 and 2017.
And a least developed country in West Africa, Sierra Leone, was third when it came to digitally deliverable services as a share of all service exports, trailing behind only Ireland and Luxembourg. For all three nations, more than 75% of all services exports could be delivered digitally in 2017.
The UNCTAD data also showed that four least developed countries were among the 10 nations with the highest share of ICT services in total services exports.
"From an economic development perspective, this is important, because it shows the potential of digitalization for businesses in developing countries that are producing such services," Ms. Sirimanne said.
Global exports of ICT services and of digitally deliverable services, 2005-2017, USD billion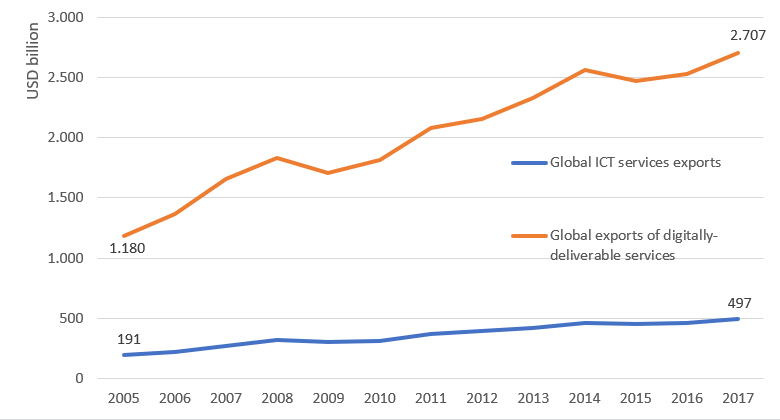 Top 20 exporters of ICT services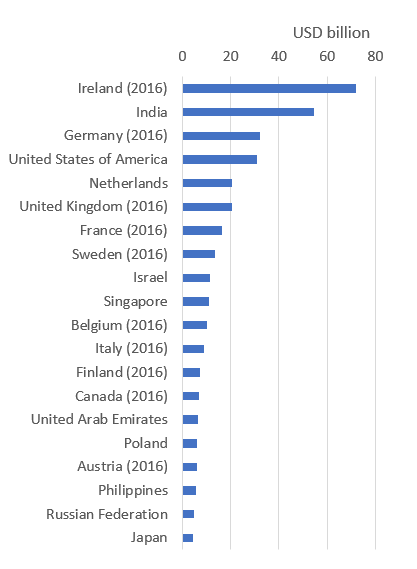 Top 20 exporters of digitally-deliverable services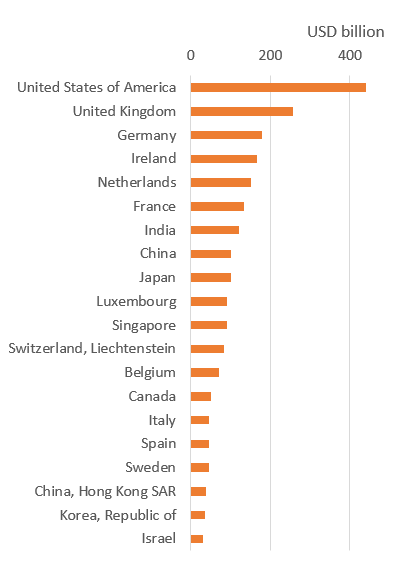 Top 10 economies by share of ICT services in total services exports (per cent)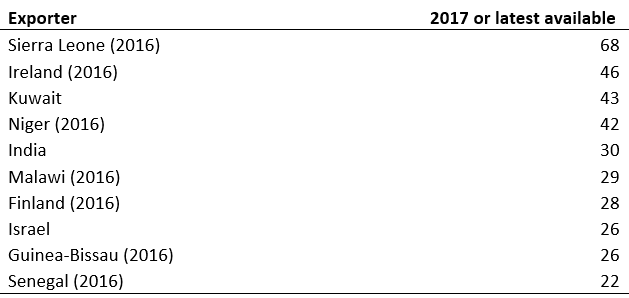 Top 10 economies by share of digitally-deliverable services in total services exports (per cent)