17 April 2018
Speakers at E-commerce Week's ministerial roundtable say that without the right digital skills in hand, getting women and girls online would have limited impact on empowerment.
Getting the right skills into the hands or women and young girls is as important to their digital empowerment as connecting them to the internet, a key session of UNCTAD's E-commerce Week has heard.
The digital gap is wide. Compared to men, around 250 million fewer women are online. And, unfortunately, the divide has been growing, not shrinking.
While efforts to plug the gap are therefore needed, equal attention must be given to helping girls and women navigate the new opportunities once they're connected to the internet, otherwise they'll be unprepared to compete in the digital economy.
"The digital world is not an ideal one," UNCTAD Deputy-Secretary General Isabelle Durant told delegates on the second day of E-Commerce Week, which started on 16 April.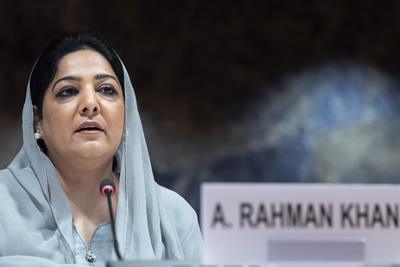 "Yes, it offers opportunities. But this is a world with ongoing competition, often viscous competition," she said at the event, which focused on advancing women's digital opportunities.
Putting the right digital cards in women's hands is therefore necessary, and it starts with how girls are educated, according to Tudor Ulianovschi, Moldova's minister of foreign affairs and the current president of UNCTAD's governing Trade and Development Board.
The smart thing to do
Mr. Ulianovschi said that the lack of a gender-sensitive education system in his country helps perpetuate the existence of so-called "masculine" or "feminine" professions. And this explains in part the 12.4% pay gap that persists in Moldova, he said.
"One of the objectives [of our gender equality strategy] is to include a gender approach to education, particularly with regards to career counseling, with a view to promote a choice of profession based on personal skills and interests and not on the traditionally gender-defined jobs," Mr. Ulianovschi said at the meeting, which he chaired.
Speakers agreed that women's empowerment is not only the right thing to do. It's the smart thing to do.
Ana Guevara, a senior trade advisor at USAID, the United States' oversees development agency, said: "Every study agrees investing in women and girls accelerates development outcomes in health, food security, conflict prevention, and the list goes on and on."
"When women have equal access to economic opportunity" – online or offline – "their families thrive, their communities rise, and their countries are better off," Ms. Guevara added.
Where there's a will, there's a way
Providing a developing country perspective, Anusha Rahman Khan, Pakistan's minister of information technology and telecommunication, said that a lack of will created the main roadblock to women's digital empowerment.
"The main issue still is whether there is a will to do something," she said, adding that the experience of the ICT for Girls project in Pakistan exemplifies the power of determination.
"In my 150 women empowerment centres across the country, there were girls who were travelling from two hours from their home to be able to learn coding and cloud computing because their parents wanted them to be enabled," she said.
Since 2015, the project has empowered more than 150,000 girls from underserved areas in Pakistan, giving them the computer skills necessary to compete in today's economy.
"For me, coding is that one universal language on which we can all agree. It is that key to the door of development," Ms. Khan said.
The project also demonstrates the breadth of the challenges facing developing countries who would like to go down a similar path.
"It is a very hardware intensive exercise," she said. "So, we need to not only have the infrastructure of the telecommunications and the broadband, but we also need to have computers available, we need to have running electricity…the teachers to be able to start off the coding."
In her opinion, e-commerce isn't about creating something new. It's about using what's already there – the digital technologies – to enhance trade. "The same would go for health, the same would go for education," she said.
And we cannot emphasize enough the skills development of women and girls in this context, she said.