15 November 2012
The Dominican Republic has formally joined the Spanish-speaking network of UNCTAD's TrainForTrade Port Training Programme.
Representatives from UNCTAD's Human Resources Development/TrainForTrade Section (HRD/TFT) have handed to Mr. Juan Carlos Montas Artero, Chairman of the Presidential Commission for Modernization and Port Security (CPMSP), the acceptance letter for the Dominican Republic's formal incorporation into the Spanish-speaking network of UNCTAD's TrainForTrade Port Training Programme. This was in response to a formal request that had been made to UNCTAD by the CPMSP.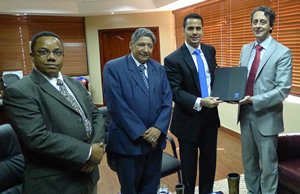 Representatives from CPMSP and UNCTAD
In this context, UNCTAD officials held meetings with the CPMSP to discuss in further detail the programme's objectives, and issues related to organizing a National Steering Committee to coordinate the Port Training Programme in the Dominican Republic, as well the steps that will constitute the action plan for the pilot phase, which will begin in 2013.
Mr. Temístocles Montás, the Minister of Economy, Planning and Development, expressed support for the programme during his meeting with the TrainForTrade representatives at the National Palace. He was informed that the pilot phase of the programme would take place in the port community of Haina, before being extended to other port communities in the country.
The representatives of HRD/TFT held further meetings with Ms. Sarah Güemez Naut, Deputy Minister of Foreign Affairs, with representatives of the Dominican Port Authority and of Haina International Terminals, and with officials of the Autonomous University of Santo Domingo to discuss their involvement in the pilot phase of the programme.