21 April 2016
Dubai Exports, the export promotion agency of the Department of Economic Development in Dubai, hosted the first 'Dubai-Shanghai Design Dialogue' in partnership with UNCTAD and the Shanghai Municipality recently. The Design Dialogue is part of an ongoing effort by Dubai Exports to enhance the global competitiveness of UAE firms.
Saed Al Awadi, CEO of Dubai Exports commented: "We believe that in today's world it is not sufficient to just assist firms to export their goods and services into foreign markets. As a trade promotion organization, we need to enhance the capabilities of our firms so that they can deliver their products and services better, faster and cheaper than their competitors. This millennium has already proved that companies that have a better designed product will succeed in the marketplace."
Chen Yuehua, Counsel, Shanghai Municipal Government, remarked that there are nearly 2 million young designers in China bringing original products in the market and that the collaboration among Dubai and Shanghai can be aligned to support growth of the design industry. The "One Belt One Road Initiative" is part of this effort to increase international cooperation in growing sectors of the economy.
Ms Alia Khan, Chairwomen of Islamic Fashion Design Council highlighted the importance of a global approach in their work, the networks to expand within and beyond the region and the integration of ethical and sustainability angles. Dubai's hosts the top five arts fair in the world and is increasingly becoming a global meeting point for the international design community, pointed out Mr. Rue Kotharie, Art Dubai Group.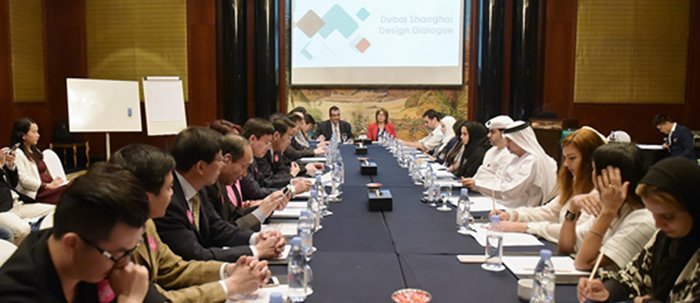 The Dubai-Shanghai Design Dialogue was attended by representatives from governments, industry groups, academics, business leaders and small and medium sized firms in Dubai and Shanghai.
The creative economy is an important and growing part of the global with exports of creative goods and services -- products such as arts and crafts, audiovisuals, books, design, films, music, new media, printed media, visual and performing arts, and creative services reaching US $473 billion in 2012. Design industries including fashion, interior design and jewelry accounted for nearly 52% of creative goods exports.
The industry is also gaining growing attention for its ability to generate income through trade and intellectual property rights and create new jobs involving higher occupational skills, particularly for small and medium sized enterprises.
UNCTAD, Dubai Exports and Shanghai Municipal Government are discussing the next steps for a joint activity to continue to promote collaboration in the design industry.