11 July 2013
UNCTAD's 2013 Economic Development in Africa Report entitled "Intra-Africa Trade: Unlocking Private Sector Dynamism" was launch by the Africa Union Commissioner of Economic Affairs, Ambassador Mothae Anthony Maruping and the UN Resident Coordinator and UNDP Resident Representative, Mr Eugene Owusu. They were joined by Mr Taffere Tesfachew, Director, Division for Africa, LDCs and Special Programmes, UNCTAD.
Since gaining political independence in the 1960s, African Governments have made several efforts to exploit the potential of intra-African trade for development, the most recent being the renewed political commitment by African leaders at the African Union summit in January 2012 to boosting intra-African trade and to fast tracking the establishment of a continental free-trade area.
The report argues that for African countries to reap developmental gains from intra-African trade and regional integration, they will need to place the building of productive capacities and domestic entrepreneurship at the heart of the policy agenda for boosting intraregional trade.
Private sector dynamism must be unlocked if African countries are to benefit from the opportunities that regional integration and intra-African trade provides.
Launching of the Economic Development of Africa Report 2013: Intra-African Trade: Unlocking Private Sector Dynamism at UNECA, Addis Ababa, 11 July 2013.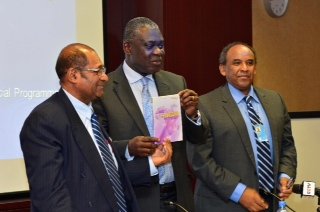 From left: H.E. Dr Mothae Anthony Maruping, Commissioner for Economic Affairs, African Union Commission, Mr. Eugene Owuse, UNDP Resident Representative; Mr. Taffere Tesfachew, Director, Division for Africa, LDCs and Special Programmes, UNCTAD