16 November 2018
Amazonian small-scale tea growers look set to benefit from $15,000 awarded to energy tea company owner Demetrio Santander, who plans to help them form a workers' association.
Demetrio Santander wants to change business as usual in Ecuador.
The co-owner of Waykana, an ethical, organic energy tea company, thinks this can be done by embracing the Sustainable Development Goals (SDGs) and working with collaboratively with local communities.
His vision won him $15,000 in the scale-up category. The business-transforming grant was made as part of this year's Global Entrepreneurship Week "Start-ups and Scale-ups for SDGs" event in Geneva, on 15 November.
In the start-up category, Nigerian social enterprise HelpMum won $5,000 to deliver on an idea to help mothers in the West African nation avoid infant and maternal mortality.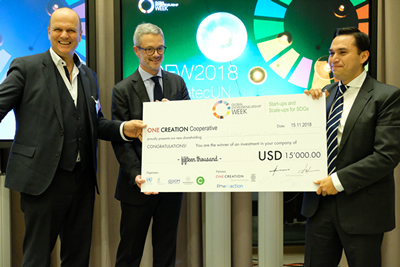 Such ideas embody the "new business normal" required for the future, UNCTAD Deputy Secretary-General Isabelle Durant said.
Ms. Durant used her opening remarks to make a pitch of her own to the 12 entrepreneur finalists, who were readying to present their SDG-orientated business ideas to a panel of impact investors.
"You are the generation which can change your countries, the economy, and development strategy," she said.
"We have to implement the 17 Sustainable Development Goals. For that we need you. We need your energy and your creativity Business for businesses' sake is not the message of the SDGs."
"Meaningful and fair businesses, which are close to the people and planet, are the businesses we need – and that is what you will start."
"You have already captured the essence of the SDGs by incorporating climate and the environment, social and economic factors into your business models."
"Global Entrepreneurs Week is a wonderful tool to mobilize not only you but one million people from 100 countries on six continents. UNCTAD is proud of have been at the roots of this initiative."
An energetic connection
The winning scale-up was born with a meeting between indigenous Guayusa leaf producers in the Ecuadorian Amazon rainforest, and Mr. Santander and his business partner Juan David Gomez, who wanted to harness the energy properties of the leaf, but with community involvement.
Now, 150 small-scale Amazonian growers are making the first natural, organic energy tea, Waykana, from ancestral Guayusa leaves.
The project generates income and boosts development in the community.
Mr. Santander said he would share his prize money with the growers to help them establish a grower's association and protect them as Waykana expands.
"It feels amazing to have won. We have been working on the project at a crazy speed, non-stop for three years. We can feel how it is now taking off," he said.
"The grant means the world, not only to our company, and Ecuador, but to our growers and the Guayusa tea industry. With the support of the international community we aim to make Guayusa famous all over the world."
"We plan to allocate this money wisely into better organizing and strengthening the relationship with the small-scale growers."
Mum's the word
Start-up winner Adereni Abiodun of HelpMum also has his eye on the future.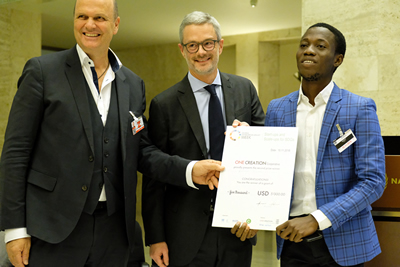 According to UNICEF, Nigeria loses about 2,300 children under five and 145 women of childbearing age every day.
This makes the country the second-largest contributor to the under-five and maternal mortality rate in the world.
"Every 10 minutes, one woman dies on account of pregnancy or childbirth in Nigeria, but we can change this," said Mr. Abiodun in his pitch.
On a visit to his uncle's rural home, Mr. Abiodun, who trained as a veterinarian, noticed both a lack of healthcare facilities and a predisposition of pregnant women to animal-borne diseases that can cause toxoplasmosis, responsible for congenital infections in children.
He saw a gap which led him to establish HelpMum. The social enterprise gives new mothers affordable, sterilized birth kits and essential newborn supplies – a vision he can now expand after receiving $5,000 from One Creation, the Swiss Investment cooperative which also funded the $15,000 prize.
"I feel so excited. I know this is a good way for us to expand our impact and to do bigger things," he said.
"We want to use money to reach out to 1,250 pregnant women in rural and remote areas in Nigeria with our clean birth kits. Then we want to double the reach to 5,000 in the next four months."
Sustainable support
The competition was initiated and organized by UNCTAD in collaboration with the World Intellectual Property Organization, Italy's Politecnico di Milano, the International Organization for Migration, and Capacity Zurich. Key partners to the event were Flow In Action and One Creation.
James Zhan, UNCTAD's director of investment and enterprise, said this cohort of entrepreneurs represented a model for linking investors with SDG projects.
"We are often asked where the SDG projects are. But the connection between bankable, pipeline SDG projects is not made – that is why we have this platform, which has proved to be very successful."
The ten other finalists were:
Alberto Arredondo, Green Energy Technologies, whose portable water purification tank is improving lives in Central America.
Khaled Karri, HUMMUSTOWN, who sells Syrian fusion cuisine providing Syrian refugees living in Rome with a livelihood.
Ruby Au, Lumen Labs Limited, who is teaching critical thinking and digital literacy to help Kenyans embrace a digital future.
Maria Ordaz, TETE Joyeria, who uses recycled materials and gem stones to make jewelry in Venezuela.
Tashi Lama, TGIFW, whose Nepalese handwoven textile and carpet company is all natural and handmade, providing jobs and supporting artisans.
Antone Rager, Posa' taste, who is on a mission to create a plastic free world with his edible vegan cutlery.
Fathou Manna, Jeimah Herbella, who is using hydroponic farming methods to grow organic teas and herbal products in The Gambia.
Astride Adjinacou, Vegetables for Hope, who aims to put organic greens on all Benin tables.
Enok Nduwimana, ASED, is opening financial and business literacy doors, and savings and credit services, for Ugandan nationals and refugees.
Gilbert Roman, INOGE rabbit farm, who is scaling his affordable, hygienic rabbit meat business in Tanzania.