06 December 2012
UNCTAD's eRegulations system, already operational in Hanoi, Da Nang and Ho Chi Minh City, is to be extended to four more provinces thanks to a new financial contribution from the Government of the Grand Duchy of Luxembourg.
The eRegulations system ensures maximum transparency of investment procedures, in order to facilitate national and foreign investment in income- and employment-generating activities. It gives precise online and printed information on how to carry out administrative procedures, such as registering a business, hiring employees, and paying taxes. Each step in each process is outlined, together with the name and contact details of the person who deals with the matter in question. Details are provided about the necessary forms, the processing time, the fees, and the relevant legal requirements.
During implementation of the eRegulations system, such procedures are often clarified, and may be simplified, resulting in faster operations that help to spur investment and business activity as well as the creation of new jobs.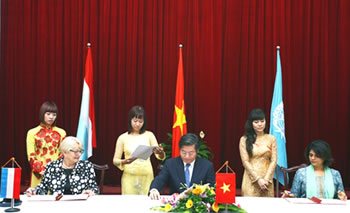 Signing ceremony for expansion of the eRegulations programme in Viet Nam
The provincial eRegulations systems now operational in Hanoi, Da Nang and Ho Chi Minh City are also accessible via a national portal, allowing for a comparison of procedures among cities.
The extension of eRegulations to the provinces of Vin Phuc, Hai Duong, Binh Dinh and Phu Yen will be carried out by UNCTAD experts in collaboration with Viet Nam's Ministry of Planning and Investment. In addition, UNCTAD will assist the existing user provinces in extending the scope of the system to include investment procedures in Viet Nam's "conditional sectors".
At the end of the 16-month project, provincial authorities in Viet Nam will be able to manage their local eRegulations systems autonomously, and to disseminate information on investment procedures widely among national and international investors.
The eRegulations programme, which is part of the investment compact proposed by UNCTAD's Division on Investment and Enterprise, has been adopted by more than 20 countries around the world. The Government of the Grand Duchy of Luxembourg has financed its implementation in the eight countries of the West African Economic and Monetary Union, in six Central American countries, and in Viet Nam.