23 November 2018
Heads of UNCTAD, the International Trade Centre and the World Trade Organization commit to further develop an online portal giving smaller businesses the data they need to trade better.
Geneva-based agencies the International Trade Centre, UNCTAD and the World Trade Organization signed an agreement on 23 November to advance the development of an online platform - the Global Trade Helpdesk - aimed at providing businesses, particularly smaller firms, with better access to trade data and information on potential export markets.
Gaining access to information on tariffs and other requirements for accessing export markets imposes costs on firms wishing to trade, and for small businesses this can be a substantial barrier to market entry.
By making trade data freely available through a user-friendly interface, the platform will help remove this barrier by providing business with the critical information they need to reduce trade costs and participate better in global trade.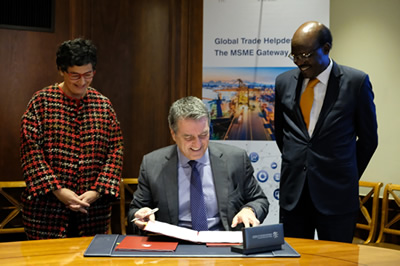 It will also help policymakers make better-informed decisions about trade and investment policies and will ensure that the international community provides better support to micro, small and medium-sized enterprises (MSMEs).
An early version of HelpMeTrade.org was launched by the three organizations at the WTO's 11th Ministerial Conference in Buenos Aires, Argentina, in December 2017.
Quality and accessibility
Under the just-signed Memorandum of Understanding, the three organizations agree to further develop the platform, improving the quality and accessibility of the information available, and to provide technical assistance to developing countries to help them maintain up-to-date information in the Global Trade Helpdesk and raise awareness among MSMEs about how to benefit from the online portal.
"The Global Trade Helpdesk is a practical tool that enables companies to access the data they need to make informed decisions about trade, " UNCTAD Secretary-General Mukhisa Kituyi said at the signing ceremony, which took place at the WTO's Geneva headquarters.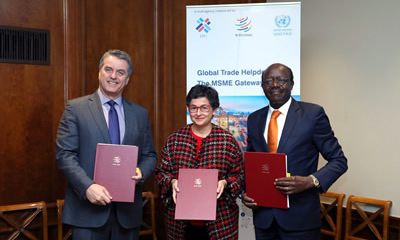 Dr. Kituyi added: "It is an innovation that helps level the information playing field. Working hand in hand with our partners at the ITC and WTO, we're addressing the needs of the trade community in a concrete fashion, and helping to transform actions into real results."
ITC Executive Director Arancha González said: "Trade and market intelligence is fundamental for companies' decision-making and competitiveness, in particular for micro, small and medium sized enterprises, and the Global Helpdesk is an important platform to facilitate greater coordination amongst the three agencies in delivering effective trade-related capacity building on the ground."
WTO Director-General Roberto Azevêdo added: "I look forward to continuing this partnership with UNCTAD and ITC – and with WTO members. Much of the success of this initiative will depend on the engagement of all WTO members to make information related to trade available so that it can be fed into the Global Trade Helpdesk. We all have a role to play to make this vital project a success."
Trade information and insights
The Global Trade Helpdesk will contain comprehensive information from various sources on market requirements, such as tariffs, taxes, relevant health and safety standards for export products.
It will also provide insight on export and import procedures – such as pre-shipment formalities and certification and inspection processes – as well as business opportunities like market prices and current trade statistics.
The agencies will develop the Global Trade Helpdesk over three three-year phases. But it is expected to be fully functional in phase one.
In addition to drawing on data from ITC, UNCTAD and the WTO, the Global Trade Helpdesk will integrate trade information from a number of other international organizations and development banks, including the Inter-American Development Bank, the United Nations Industrial Development Organization and the World Bank Group.
For more information and to start discovering the Global Trade Helpdesk, please visit www.helpmetrade.org.