14 September 2017
Ghana's future depends on developing its skill-base with free education for all and a "Marshall Plan" for farmers, according to the West African nation's Vice-President Dr. Mahamudu Bawumia.
Speaking at the ongoing high-level session of UNCTAD's Trade and Development Board in Geneva, Dr. Bawumia underlined that Ghana's economy needed to diversify to rely less on commodities, like cocoa beans, precious metals and bauxite.
"We don't want to just be raw material-producing economies. We want to add value to our raw materials. And in the process of adding value you build productive capacity," he said. "We are encouraging every district in Ghana to set up a factory. We have a one-district, one-factory initiative to try to boost industrial productivity and we believe that that enhances productive capacity."
Dr. Bawumia, who assumed office as Vice-President in January this year, is an economist by training and a former Deputy Governor at the Bank of Ghana. He was a keynote speaker at a Trade and Development Board session on building productive capacity in the world's 47 Least Developed Countries, most of which are in Africa.
This is a core issue for UNCTAD, given that it is a key means to spur the gainful integration into the world economy of developing countries, to accelerate the movement towards prosperity for all. It will also help the world meet the 17 Sustainable Development Goals, a 15-year blueprint adopted by the entire international community in 2015.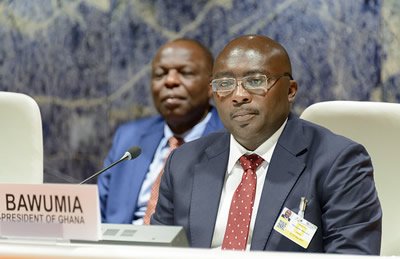 H.E. Mr. Mahamudu Bawumia
Vice-President of Ghana
Watch:
Dr. Bawumia's streamed press stakeout after the UNCTAD Trade and Development Board
Listen:
Dr. Bawumia also said that the aim of providing free secondary school education for all was to build a "core of human capital" in Ghana.
This would leave the country less vulnerable to fluctuating commodity prices, which have helped some of the world's poorest countries grow during boom years, without translating into long-term benefits.
In reference to the Marshall Plan - a US-funded recovery package for Europe after the Second World - Dr. Bawumia said that an initiative was being prepared next year to help the country's agricultural sector.
He added that well-structured partnerships with the private sector would be key, as governments have tended to "take on too much" in the past.
The Trade and Development Board meets up to three times a year in between the quadrennial editions of the UN Conference on Trade and Development.
The current session, which began on Monday runs until 22 September, is taking stock of the work done since the UNCTAD XIV summit, held in Kenya in July 2016. The "Nairobi Maafikiano" report, adopted by governments there, highlighted the link between trade and sustainable development.