05 April 2019
Digital revenues account for 54% of the global recorded music market indicating an industry that has embraced digitalization, but at what cost and whose benefit?
Indonesian rock star turned music industry advocate, Irfan Aulia, wants his country's  music industry to win by integrating technology and creativity.
To do so, he backs the blockchain. He is supported by a government which has made the creative economy a priority.
"Data is gold in the digital music world. My company's success depends as much on mining data as it does on finding good music," Mr. Aulia explained to attendees at the fifth annual UNCTAD eCommerce Week in Geneva, Switzerland, on 4 April.
He runs Massive Music Entertainment and is collaborating with the Indonesian government's Creative Economy Agency, Bekraf, on Project Portamento, to use blockchain technology to protect artists' copyright.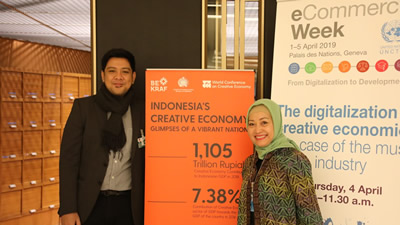 Project Portamento, which launches next year, will help Indonesian musicians who have loaded their work to the database to track and monitor downloads and usage online, and calculate royalties due.
"It's pretty innovative. We are collapsing a copyright, labeling and commercialization management system in one single application – and there is a lot of data that needs to be captured in the music business," Mr. Aulia said.
"By matching and commercializing the database, the metadata, we believe the Indonesian market for copyrights will increase over five to 10 years. Basically, we are creating our own big data which will be accessible to all users. This is actually the goldmine."
Indonesia has around two million music works, of which only 300,000 are recorded.
This missing intellectual property could play a key role in the development of the creative economy, said Hasan Kleib, Indonesia's ambassador to the United Nations in Geneva.
The music industry is among the fastest growing of the 16 creative economy sectors in Indonesia.
"The contribution of the music industry to GDP of Indonesia grew 7.59% in 2018, compared to its contribution in the previous year. It employs more than 56,000 workers," Mr. Klieb said.
"More than 50% of workers in the music industry in Indonesia use the internet, and particularly e-commerce, as instruments to scale up their production and expand their market presence."
The potential market growth in Indonesia is significant, added Mr. Aulia. As the fourth biggest country in the world by population, he is not wrong.
The size of the market has made Indonesia popular among digital platforms, such as Spotify, trying to gain market share and capitalize on the growth of streaming.
Full stream ahead
The release of the 2019 Global Music Report by the International Federation of the Phonographic Industry (IFPI), which represents the interests of the recording industry worldwide, indicates just how much streaming is now a viable business model for some players in the industry.
Xenia Iwaszko, IFPI's international trade director said streaming drove growth in the music industry last year, an indication of a turned corner for a sector whose traditional business model has seen a long period of decline.
The report found that global recorded music revenues grew 9.7% in 2018, while total streaming revenues grew 34% to nearly half of all revenue, driven by paid streaming.
"The ingredients for the success of streaming are linked directly to digitalization but making sure everyone benefits requires the right laws, affordable data plans, accessible sign-up, and credit cards," she said.
These are all areas of challenge for developing economies.
While Latin America showed highest regional growth for the fourth consecutive year in 2019, and Asia and Australasia are second-largest region for physical and digital formats combined, the US market still dominates by 40% margin.
Divide and disrupt
The growth is happening in the context of an industry that has been completely disrupted by digital.
Yet it's also been among the first to embrace innovations in mobile, internet and blockchain technologies.
In a sense it is both victim and victor in the changing digital landscape – and therein lies the obstacles and opportunities, attendees heard.
"Creative content accounts for a significant share of e-commerce and digital trade," said Keith Nurse, a creative economy expert and senior fellow of the Sir Arthur Lewis Institute of Social and Economic Studies at the University of the West Indies.
"With the rise of the new digital creative economy, content is king, but the producers of content are not."
The situation is worse in developing countries which Mr. Nurse argues are not innovating, but rather stagnating or regressing when it comes to their digital potential. 
He advocated for more to be done to build "soft infrastructure" to train artists to become digital entrepreneurs.
Indonesia has invested heavily in training and skills development based on both the economic and intrinsic value of the industry.
"The creative economy not only contributes to economic growth but also builds national pride by adding value to culture," Mr. Kleib added.
Globally the creative economy accounts for about 3% of GDP and, in conjunction with digital transformation, could be a powerful source for development.
Marisa Henderson, head of UNCTAD's creative economy programme, said the disruptive influence of digital technology on the music industry has been observed throughout the value chain, from funding to monetization to copyright ownership.
"In this new era, a key challenge for all musical artists, in developed and developing countries alike, is to secure their fair share of income from digital music sales and advertisements," she said.
The annual eCommerce Week draws leading e-commerce figures, start-ups, policy makers and officials from around the world, and runs from 1-5 April at the UN's European headquarters in Geneva. The theme of this year's week, which comprises dozens of sessions, is "From Digitalization to Development".