25 June 2018
President Michael D. Higgins welcomes managers from UNCTAD's Train for Trade port management programme at his residence in Dublin.
Senior port managers from developing countries who are passing on their expertise to colleagues met Ireland's President Michael D. Higgins in Dublin, Ireland, on 21 June during a week-long Training of Trainers workshop .
Mr. Higgins welcomed the managers from ports in Indonesia, Ghana, Malaysia, Nigeria, and the Philippines which are members of the English-speaking network of UNCTAD's Train for Trade port management programme. Prospective members from Serbia and a former member from Namibia were also present.
"As an island nation, almost uniquely dependent on international trade, we in Ireland know and value the importance of our ports, and all who work there," Mr. Higgins said during a reception at Áras an Uachtaráin, his official residence.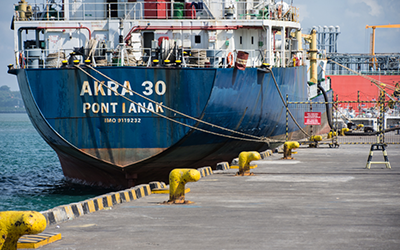 The workshop was co-organized by Dublin Port Company, with the support of Port of Cork Company and Belfast Harbour Commissioners and held at the head office of Dublin Port Company and the National College of Ireland.
Prosperity for all
"I am so very proud that our ports here in Ireland and Irish Aid, our overseas development assistance programme, have been participating with the English-speaking network for eleven years now, and that they have agreed to continue for four more years," Mr. Higgins said.
"It is an example of internationalization in the best sense, co-operative not competitive, dedicated to the prosperity of all the peoples of the world rather than a narrow few."
The face-to-face workshop was the completion of a course that started with a distance learning component from April to June which represented a new blended learning strategy for the Port Management Programme.
The objective of the workshop was to prepare the senior port managers for their roles as future instructors in their port communities.
UNCTAD Secretary-General Mukhisa Kituyi was due to take part in the closing ceremonies of the workshop to distribute the certificates to successful candidates.
​​​​​