28 February 2019
For the first time, World Wildlife Day focuses on the grave threats facing our oceans and life under the surface, on which billions of families around the world depend
When talking about the need to protect wildlife, images that likely come to mind are animals that live on land with us, such as elephants and pandas. But life below water is just as endangered – and just as precious.
This is especially true for the 3 billion people across the globe who depend on the resources in our oceans, seas, lakes and rivers for food and income.
Unethical trading practices, pollution and climate change are putting these precious resources – and thus these families – at risk.
"Our oceans and ocean life are under serious threat from illegal, unreported and unregulated fishing, overfishing, plastic pollution, rising ocean temperatures, and ocean acidification," UNCTAD Secretary-General Mukhisa Kituyi says.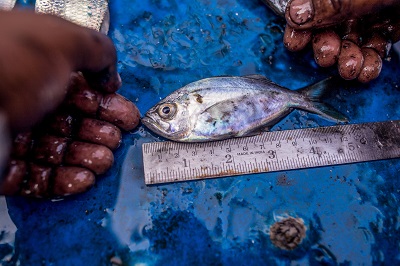 And with about one third of the world's fish stocks already overfished, this year's theme for World Wildlife Day, "Life below water: for people and planet", couldn't have come sooner.
For the first time since the United Nations in 2013 proclaimed 3 March as World Wildlife Day, the spotlight is on the need to protect marine and coastal biodiversity – in line with Sustainable Development Goal 14.
Fish to dish
Countering the decline in marine wildlife requires regulation "from fish to dish" in seafood and other marine-based value chains.
And our work at UNCTAD helps countries do just that.
For example, we've been on the front lines of the call to end harmful fishing subsidies.
In 2016, we designed a roadmap with the UN Environment and the UN Food and Agriculture Organization that was immediately backed by 90 countries and global civil society organizations such as the World Wildlife Fund for Nature.
We've also designed an e-certification tool for customs authorities that helps countries ensure marine wildlife is traded legally, in accordance with national and international regulations under the Convention on International Trade in Endangered Species of Wild Fauna and Flora (CITES).
And with partners such as CITES and the Development Bank of Latin America we're working to develop value chains for queen conch and certain shark species and to promote sustainable nature-based tourism like whale watching in Latin America and the Caribbean.
"At UNCTAD we are doing our part to meet SDG 14," Dr. Kituyi says.
"On this special day, I call on governments, international organizations, civil society, the private sector and young people around the world to embrace the sustainable blue economy and take concrete actions towards a better future for people and planet."