21 April 2017
UNCTAD gathers global leaders in business, government, the international community and civil society to debate and learn the opportunities and challenges of the digital transformation. With a special focus on the implications for developing countries, UNCTAD's E-Commerce Week runs from 24-28 April 2017 on the theme "Towards Inclusive E-Commerce".
Jobs, jobs, jobs. Will a robot take my job? Will my company outsource my job to a lower cost location? If I get a job, will I earn a livable wage that can support me and my family? These are some of the prevalent questions on people's minds in the 21st century. These questions swing elections, referendums and impact national economies. How governments respond will influence people's votes but more importantly, it will impact people's lives.
E-commerce is widely recognized as an important driver of job creation, competitiveness, innovation and growth. There are many opportunities through the digital transition, however, there is a fear that e-commerce will take jobs and lead to greater inequality.
"E-commerce portends well as an enabler of new opportunities, particularly for developing countries," said Mukhisa Kituyi, Secretary-General of UNCTAD.
"UNCTAD is uniquely positioned to bring together business, government and civil society to grow policy pathways on the opportunities that arise from e-commerce and how best to leverage them for inclusive prosperity," said Dr. Kituyi.
More than 600 delegates representing 65 countries will attend and speak during the E-commerce Week. High-level representatives from eBay, Etsy, FedEx, Jumia, Huawei, Kapruka, PayPal, Ringier, TCS Holdings, Vodafone, and other e-commerce businesses will be speaking at the conference and engaging with government representatives and civil society.
New UNCTAD estimates launched today, show global e-commerce at $25 trillion in 2015. E-commerce is big business. As it is transformational, it will provide both economic opportunities and challenges for developed and developing countries.
The UNCTAD estimates also show that the United States is by far the largest market for business for e-commerce, with combined sales of over $7 trillion in 2015, with Japan and China some distance behind. While the United States is ahead by some margin in business to business (B2B) e-commerce, it is just behind China in the business to consumer (B2C) segment.
Major economies by total, B2B and B2C e-commerce, 2015, $billion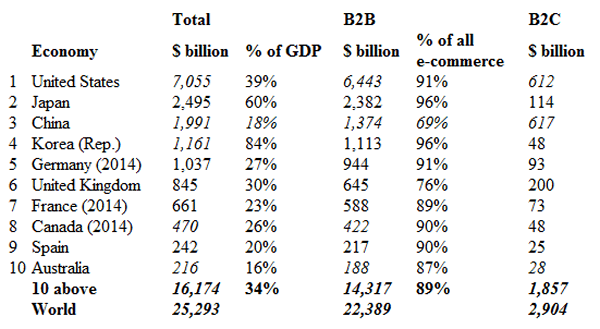 Note: Figures in italics are estimates. Missing data were estimated based on average ratios. Converted to $ using annual average exchange rate.
Source: UNCTAD, adapted from US Census Bureau; Japan Ministry of Economy, Trade and Industry; China Bureau of Statistics; KOSTAT (Republic of Korea); EUROSTAT (for Germany); UK Office of National Statistics; INSEE (France); Statistics Canada; Australian Bureau of Statistics and INE (Spain).
These new data represents a significant revision of earlier estimates. This is due mainly to revisions of B2C e-commerce sales, which now place the United States on par with China.
The data show that as yet very few developing countries collect and publish official statistics on e-commerce. The lack of information puts governments at a disadvantage when formulating and implementing policies to develop their digital economies.
Jack Ma, Founder and Chairman of one of the largest global e-commerce businesses, the AliBaba Group, is also the UNCTAD Special Advisor for Young Entrepreneurs. Mr. Ma will be addressing a High Level Event during the E-commerce Week.
"Imagine a world where global trade is possible for even the smallest of small businesses. Where a mother in Africa can sell her handmade baskets to a customer in Argentina. Where a farmer in the Philippines can sell his mangos to consumers in the United Kingdom. This is the potential face of global e-commerce," said Mr. Ma.
On day two of the UNCTAD E-Commerce Week, Jack Ma will join Mukhisa Kituyi (Secretary-General of UNCTAD), Roberto Azevêdo (Director-General of World Trade Organization) and Amanda Long (Director-General of Consumers International) and others, to discuss the "Digital Transformation for All: Empowering Entrepreneurs and Small Business".
The High-Level event will set the tone for the rest of the week's discussions, focusing on how developing countries can further engage in e-commerce, and identify concrete actions going forward.
E-commerce week will also launch the new eTrade for All online platform and host the first gathering of stakeholders of "eTrade For All" since the initiative was launched in Nairobi at the UNCTAD 14 Ministerial Conference in July 2016.
About UNCTAD
UNCTAD supports developing countries to access the benefits of a globalized economy more fairly and effectively. The organization aims to help equip countries to deal with the potential drawbacks of greater economic integration. To do this, UNCTAD provides analysis, consensus-building, and technical assistance. This helps them to use trade, investment, finance, and technology as vehicles for inclusive and sustainable development. UNCTAD is a permanent intergovernmental body established by the United Nations General Assembly in 1964.
About E-commerce Week
The third edition of UNCTAD's E-Commerce Week comes at a crucial moment where many governments are analyzing the impact of the digital economy and e-commerce on global growth.
E-commerce is recognized as an important driver of innovation, competitiveness and growth, and holds huge potential for entrepreneurs and small and medium-sized enterprises (SMEs) worldwide. While e-commerce B2C sales have dramatically increased in developed economies, they are still at their infancy in many developing countries, especially in LDCs.
This year's E-Commerce Week, with the theme "Towards Inclusive E-Commerce", will offer a platform for participating stakeholders to discuss key challenges and opportunities related to e-commerce and define concrete actions towards more inclusive trade, global benefits and sustainable development in line with the Sustainable Development Goals.