24 June 2020
An initiative by the island nation's central bank to increase electronic retail purchases is among eight success stories featured in an UNCTAD report on e-commerce in South-East Asia.
The Philippine government set its sights on a digital future in 2015 when its trade department adopted a roadmap to more than double by 2020 e-commerce's contribution to national GDP, from 10% to 25%.
But a major roadblock stood in the way. At the time, just 1% of all retail payments were made electronically, yet nearly 41% of the population was online.
Relentless efforts by the island nation's central bank have helped push e-payments to over 10%, and the experience is one of eight e-commerce best practices showcased in a new UNCTAD report, TrainForTrade case studies in South-East Asia.
"The central bank recognized that e-commerce activities could only flourish and hit the authorities' targets if the country adopts and boosts the use of electronic payments, or e-payments," said Mary Rose Contreras, deputy director of payment system oversight for the nation's central bank.
Factors that contributed to the low prevalence of e-payments in the island nation included limited interbank fund transfer facilities, high fees charged by banks, lack of trust among merchants and consumers, and the high percentage of "unbanked" Filipinos – just 34.5% of the nation's adults have formal bank accounts.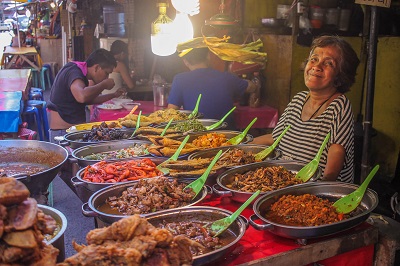 Street market in Cebu City, Philippines
Related links:
A framework and two clearing houses
The country's central bank, Bangko Sentral ng Pilipinas, promptly initiated a project to address the issues and establish a safe, efficient and reliable national retail payment system.
It adopted in 2015 a national retail payment system framework and has since worked with industry stakeholders to establish an industry-led self-governing body, the Philippine Payments Management, Inc. It also established two automated clearing houses, PESONet in 2017 and InstaPay in 2018, to process generally low-value transactions between accounts held in financial institutions backed by the central bank.
The framework and clearing houses were essential to address the challenges of multi-stakeholder participation and interoperability in the Philippines' retail payment space.
From 1% to 10%
There are now more than 55 central bank-supervised financial institutions participating in PESONet and 45 in InstaPay. They are a mix of universal, commercial, thrift and rural banks, as well as e-money issuers.
In less than three years, PESONet has registered almost 1.1 million transactions worth PhP175.3 billion ($3.5 billion), while InstaPay has reached almost 9.6 million transactions valued at more than PhP57 billion ($1.1 billion).
Thanks in part to these initiatives, the percentage of retail purchases made electronically grew from just 1% to more than 10% in five years.
According to the central bank's governor, Benjamin E. Diokno, "This development affirms that significant progress is attainable through effective cooperation as we harmonize our efforts towards promoting a cash-lite economy."
"In view of its immense potential to foster financial inclusion, the rising usage of e-payments is seen to provide robust support to our shared goal of promoting inclusive economic growth."
Bangko Sentral ng Pilipinas continues to clear roadblocks to help the nation shift from a cash-heavy to a cash-lite economy. It's now working on several initiatives, including an innovative way to transfer funds through the use of QR codes to leverage the prevalence of mobile phones among the population.
Seven policy recommendations
Other successes presented in the UNCTAD report include an electronic public services project in Cambodia, government initiatives to tackle logistics challenges in Indonesia, and a national e-payment scheme in Thailand.
Based on lessons learned, UNCTAD offers seven recommendations to boost e-commerce readiness in the region:
Holistic approach: Harnessing the potential of the digital economy requires inter-ministerial coordination and collaboration between the public and private sectors.

Internet access: The digital economy can't take off unless the majority of the population has access to affordable and reliable internet services.

Trade infrastructure: Products may be sold online but they have to be delivered offline. A successful digital economy requires efficient trade procedures and logistics infrastructure.

Mobile payments: A mobile phone is a gateway to the internet but also a tool for cashless payments. Governments must improve digital financial literacy among the population.

Update legal frameworks: E-commerce requires updated laws and regulations related to e-transactions, consumer and date protection, intellectual property and cybercrime, among others.

Capacity-building: There is a significant need to build relevant skills among the population, businesses and government agencies to enable active participation in the digital economy.

Innovation: New solutions are needed to improve access to financing, especially for medium-sized and small businesses, which are the backbone of local economies and thus must also make the switch to digital.
The case studies were done as part of the UNCTAD TrainForTrade project entitled Leapfrogging skills development in e-commerce in South-East Asia, funded by the United Nations Development Account.
UNCTAD will continue its efforts to encourage mutual learning between countries and within regions in the areas of e-commerce and the digital economy.
"E-commerce is a powerful means to connect the unconnected to global trade," said Torbjörn Fredriksson, chief of UNCTAD's ICT policy section.  
"With smart policies in place, developing countries including those in South-East Asia can achieve more progress on the road towards the Sustainable Development Goals."