20 June 2013
UNCTAD Secretary-General Supachai Panitchpakdi has met with Seychelles President James Michel, and has handed over an independent review of the country's competition and consumer protection legislation.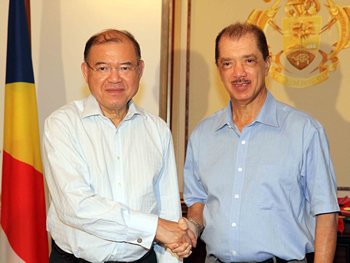 We thank you for championing the voices of small island developing States, which are often disadvantaged within the international trading system due to their size...
We look forward to working with you to develop the 'blue economy' concept for sustainable development, which would benefit small island States, like Seychelles, oceanic States, and coastal countries,

James Michel     
President of Seychelles     
The review, which was overseen by UNCTAD, was presented by Mr. Supachai during an official visit to the island nation.
Arising out of a technical assistance request made by the Government of Seychelles, the review is an independent assessment of the country's Fair Trading Competition Act, Consumer Protection Act, and Fair Trading Commission Act.
President Michel thanked UNCTAD for the support that the organization had provided during economic reforms carried out in Seychelles. The President also commended the Secretary-General's work in recent years to assist small island developing States (SIDS).
The Secretary-General said that UNCTAD was satisfied with the work implemented by the country to ensure that consumer rights were protected and to help bring about competition in business. He said that UNCTAD would continue to support Seychelles' "modern framework for a modern economy".
"The model being used in Seychelles is one of the most outstanding frameworks for market mechanisms," he said. "We will work together to foster the visibility of the small island developing States... so that we can develop some form of framework to deal in a differential manner with the cases of small island States in the global trade framework."
The meeting with President Michel also was attended by Hassan Qaqaya, Head of UNCTAD's Competition and Consumer Policies Branch.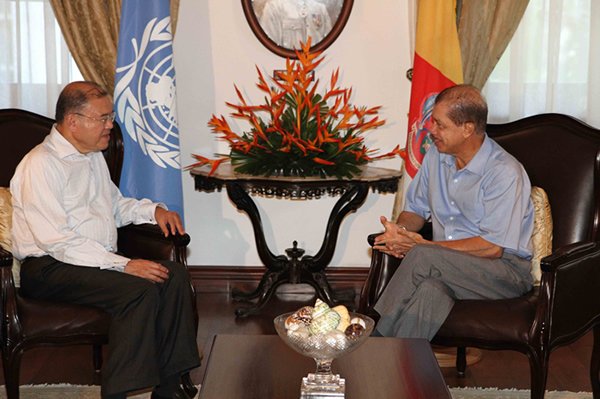 UNCTAD Secretary-General Supachai Panitchpakdi meeting with Seychelles President James Michel