27 November 2018
Competitive transport, logistics and foreign investment are essential to ease intra-African commerce and reap rewards of new deal, meeting hears.
Smoothing the way for African trade is critical if the continent is to tackle the challenges posed by fast-shifting patterns of global commerce, UNCTAD Secretary-General Mukhisa Kituyi said on 27 November in Addis Ababa.
Dr. Kituyi was in the Ethiopian capital for the First African Forum for National Trade Facilitation Committees, which are spotlighting how to reduce trade hurdles on the continent.
The forum, taking place at the UN Economic Commission for Africa (UNECA), is part of efforts to implement the World Trade Organization's (WTO) Trade Facilitation Agreement, which entered into force in February 2017 and could help drive down the cost of commerce. It also comes amid new momentum provided by the African Continental Free Trade Agreement (AfCFTA), a landmark for regional integration that was signed in March 2018.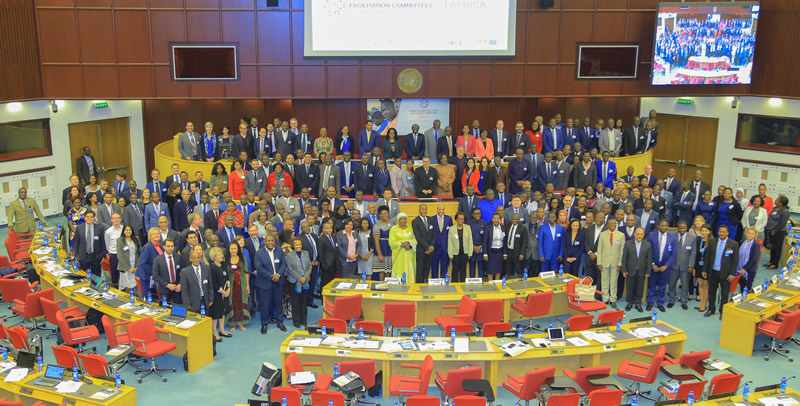 "Africa faces a moment when the market access gains that have been negotiated over the past two decades can be severely eroded unless we address the challenges of trade facilitation," said Dr. Kituyi.
He emphasized that Africa's competitive labour advantage must be accompanied by quality transport hubs, efficiencies in the cross-border movement of goods and services, better procedures at ports, and a predictable regime of logistics management.
The most secure frontier for African growth driven by trade is Africa itself, he underscored.
"If Africa is going to trade with itself, we have to make sense of what main roads and railways are to be built to connect African producers and consumers."
Together with well-functioning trade committees, infrastructure and investment are the main tools to facilitate trade, he argued.
Lowering trade costs
Trade facilitation matters in Africa since businesses and people on the continent shoulder an unfair share of trade costs.
Overall, the WTO calculates current trade costs for developing countries are equivalent to applying a staggering 219% tariff on their international trade, and that full
implementation of the Trade Facilitation Agreement could cut trade costs for Africa.
WTO Director General Roberto Azevêdo said the forecast impact of the agreement is "striking".
"It could add 2.7 percentage points per year to world trade growth and more than half a percentage point to world GDP. The biggest benefits would accrue to developing countries."
"In Africa estimates show that full implementation of the agreement could reduce trade costs by an average of 16.5% - by doing that, it has the potential to deliver a huge economic boost for the continent," he said.
This level of trade would open new opportunities for smaller businesses, especially for women-led businesses and younger entrepreneurs while enhancing transparency and reducing corruption.
African solutions
The solutions, like the market, should be African, said Thomas Kwesi Quartey, deputy chairperson of the African Union Commission (AUC).
For a decent shot at the dream of the African common market, Africa needs to have vision, he said.
"The AfCTA is a continental blueprint for strengthening trade capacities in Africa," Mr. Quartey said. "But to trade, you must first produce, and to be able produce and leverage science and technology in this production, you need education training and planning."
"Intra-African trade, currently at a lowly 15 to 18%, is now beginning to be the focus of all our endeavors.
"Statisticians tell us where there is an increase of 2% in intra-African trade, GDP rises by a factor of 10. The AfCTA would reduce in half Africa's trade deficits, while strengthening GDP growth. It would create jobs for our people, especially our dynamic youth."
"But the gains are nowhere near automatic – we need to work hard, we need to vision and together strengthen our endeavours and create institutional environments."
Delivering a statement from UNECA's executive secretary Vera Songwe, the head of her office Ingrid Cyimana said Africans were doing just this by taking bold steps to integrate their economies using the AfCTA and by establishing trade facilitation committees.
"Our projections show the value of intra-African trade to be between 15% to 25% higher in 2040 compared to a situation with no AfCTA. We also find that gains are significantly higher when the AfCTA is implemented alongside trade facilitation measures," she said.
She stressed the role of people on the ground influencing the debate, a sentiment shared by delegates at the forum. "An integrated Africa will not be possible without advocacy, consultation and consensus building."
"While government needs to set a conducive environment, it is Africa's traders and businesses that can best identify what actions are needed to overcome existing trade facilitation challenges."
Meeting of minds
The forum is the first of events globally to support implementation of the WTO's agreement, which besides measures to boost trade also addresses improved revenue collection, safety and security compliance controls, including for food, and streamlining government agencies.
The reforms aim to help small cross-border traders, often women, enter the formal sector, make economic activities more transparent and accountable, promote good governance, generate better quality employment, strengthen information technology capabilities and generally modernize societies by bringing about benefits related to administrative efficiency.
These reforms are a prerequisite for developing countries to join global value chains and start trading out of poverty.
Also speaking at the forum's opening:
Fetlework Gebregziabher, minister of trade and industry, Ethiopia

Brenda Mundia, capacity building directorate deputy director, World Customs Organization

Philippe Isler, director, Global Alliance for Trade Facilitation

Manuel Henriques, senior private sector development specialist, World Bank Group

Olga Algayerova, executive secretary, United Nations Economic Commission for Europe
The forum, which runs over three days from 27 to 29 November, is supported by the Commonwealth, the European Union, Danish development agency Danida, the Government of Finland, and the Islamic Development Bank.