28 September 2015
As world leaders gather in New York to launch the UN Sustainable Development Goals (SDGs), capital market leaders are gathered to welcome these new global goals on sustainability. Chief capital market regulators and CEOs of stock exchanges, investment houses, and large companies joined UNCTAD Secretary-General and other senior UN officials for the Sustainable Stock Exchanges' (SSE) SDG Leaders Luncheon and Closing Bell ceremony hosted by the New York Stock Exchange.
Covering a broad range of environmental and social issues, the SDGs will shape the global agenda for the next 15 years. As said by Dr. Mukhisa Kituyi, Secretary-General of UNCTAD during his keynote speech at the event "Governments have committed to achieving these ambitious goals, but their implementation will not be possible without concerted efforts from the private sector and new policy frameworks to promote responsible investment in sustainable development".
In a high-level dialogue moderated by James Zhan, Director of UNCTAD's Investment and Enterprise Division, more than 30 leaders of business and government vocally asserted support for the new SDGs. From sustainability reporting and mobilizing finance, to gender equality and global partnerships, stock exchanges agreed that they have an important role to play in promoting good corporate practices and facilitating investment in sustainable development. Stock exchanges and capital market leaders are recognized as important elements within UNCTAD's Investment Policy Framework for Sustainable Development.
Participants included leaders from Nasdaq, London Stock Exchange Group, Nigeria Stock Exchange, Egyptian Exchange, Morgan Stanley, Nestle and Citi, alongside chief market regulators from India and Korea, and other high-level dignitaries.
Keynote addresses were delivered by UNCTAD Secretary-General Dr. Mukhisa Kituyi and Executive Director of UNEP, Mr. Achim Steiner. Executive Director of the Global Compact, Ms. Lise Kingo and Executive Director of the Principles for Responsible Investment, Ms. Fiona Reynolds also addressed the audience on the role of companies and investors in the implementation of the SDGs.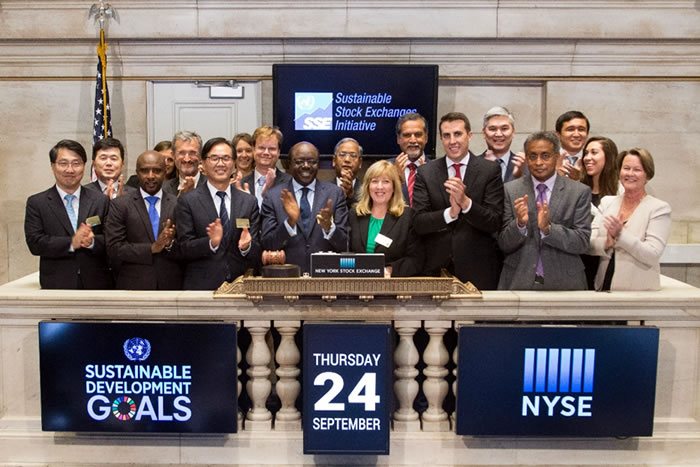 UNCTAD Secretary-General and Executive Director of PRI ring the closing bell
joined by stock exchanges and regulators from around the world.
At the end of the luncheon, the exchanges celebrated the launch of the SDGs with a special Closing Bell ceremony at the New York Stock Exchange. Ringing the closing bell was UNCTAD Secretary-General Dr. Mukhisa Kituyi, and Executive Director of the Principles for Responsible Investment, Ms. Fiona Reynolds.
To mark the occasion, four stock exchanges announced their public commitments to join the SSE initiative as SSE Partner Exchanges: Colombo (Sri Lanka), Kazakhstan, Mauritius, and Rwanda.
"I believe that being part of the Sustainable Stock Exchange initiative demonstrates our commitment towards adopting sustainable business practices and encouraging our stakeholders to do the same," said Vajira Kulatilaka, Chairman, Colombo Stock Exchange. "We endeavor to engage with member exchanges, who are part of the initiative, and collectively work towards sustainable policy initiatives which will help capital markets across the globe create better corporate citizens in the areas of environment, society and governance."
Sutheash Balasubramaniam, Director of the UN Global Compact Network Sri Lanka welcomed the news of Colombo Stock Exchange joining the SSE, saying "This will create a new dimension to the Sri Lankan financial market that will encourage companies to integrate sustainability in a more meaningful manner."
"Kazakhstan Stock Exchange is pleased to join SSE Initiative. Undoubtedly, sustainable development of the stock market is very important to the country's economic growth," said Chief Executive Officer Yeszhan Birtanov. "By joining this initiative, we will be able to contribute much more to sustainable development of our country's economy and will gain access to additional information on sustainability that we could further distribute among our clients from financial and real sectors of Kazakhstani economy."
"We are pleased to join the SSE as a Partner Exchange. Earlier this month, the Stock Exchange of Mauritius launched a sustainability index (the SEMSI) to promote sustainable business practices amongst our listed companies," said Chief Executive Officer Sunil Benimadhu. "We now want to step up our commitment to the sustainable development cause. We are also keen to collaborate with our peer exchanges on this global platform to explore how we can help to mobilize finance in order to support the SDGs in the coming years."
"Rwanda Stock Exchange's participation in the SSE serves to confirm our commitment that our market will not be left behind in all efforts geared to building our economies and capital market in a responsible and rational manner," said Pierre Célestin Rwabukumba, Chief Executive Officer. "What we do today will shape our future; if we mean survival then we must plan sustainably and collectively, hopefully with no excuses from anyone."
Following the success of the SDG Leader's Luncheon, the SSE initiative will work further to convene capital market actors and encourage the implementation of the sustainable development goals.
About the Sustainable Stock Exchanges (SSE) Initiative
The SSE is a peer-to-peer learning platform for exploring how exchanges-in collaboration with investors, regulators, and companies-can encourage sustainable investment and enhance corporate transparency, and ultimately performance, on ESG (environmental, social and corporate governance) issues.
Launched by UN Secretary-General Ban Ki-moon in 2009, the SSE is convened by the United Nations Conference on Trade and Development (UNCTAD), the UN Global Compact, the UN Environment Program's Finance Initiative (UNEP FI), and the Principles for Responsible Investment (PRI).
Please visit the SSE website (www.SSEinitiative.org) for more information on specific exchanges' sustainability efforts and further opportunities to advance the integration of sustainability within capital markets.