19 October 2018
UNCTAD's BioTrade Initiative is showcased during annual Trade for Sustainable Development Forum.
Responsible consumption and production help inject sustainability into the global value chains that underpin contemporary trade, as well as protecting diversity, spurring economic diversification and help curb poverty, an annual forum heard on 2 October.
UNCTAD's BioTrade Initiative was a featured partner during the annual Trade for Sustainable Development Forum (T4SD Forum) of the International Trade Centre (ITC). The forum focused on Sustainable Development Goal 12, which calls for responsible consumption and production, and its relationship with sustainable trade in global value chains.
The BioTrade Initiative organized two interactive sessions with panelists from diverse sectors and backgrounds. The first focused on sustainable production of biodiversity-based products in a way that safeguards biodiversity. The second session discussed the key drivers for the growing consumption for biodiversity-friendly products and actions to promote it.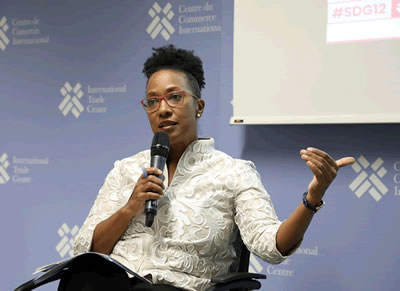 Pamela Coke-Hamilton ©  International Trade Centre (ITC)
Today over 3.2 billion people depend on biodiversity for their livelihoods, but the globe's biodiversity resources are being depleted at an alarming rate. Panelists urged companies to step up and make biodiversity-friendly business practices part of their operations.
"If we are going to address the issue of biodiversity, we also have to look at the fundamental issues of poverty and economic diversification," said Pamela Coke-Hamilton, director of the international trade and commodities division of UNCTAD.
Panelists stressed the importance of working together to reverse the current state of biodiversity degradation. Lorena Jaramillo, an economic affairs officer at UNCTAD, presented the BioTrade Initiative which contributes to this goal. Launched in 1996, the programme has formed innovative and collaborative partnerships with various actors that have proven to be beneficial to people and to biodiversity.  
Anne Schick, of the Swiss State Secretariat for Economic Affairs (SECO), also underscored the benefits that BioTrade has brought over the years.
"Sustainably managed biodiversity products create jobs, reduce poverty, and contribute to livelihoods. Moreover, value is given to biodiversity." she said.
Ms. Coke-Hamilton also highlighted the importance of collaboration. "We need to bring companies and governments to the same table and see how they can work together in developing a policy framework and seize trade and investment opportunities," she said.
The role of consumers in sustainable consumption was also addressed. The demands for natural-based products are skyrocketing from US$ 1.9 billion in 1980 to US$ 141 billion today. Consumers are increasingly asking for more sustainably and ethically sourced products, adding more pressure to companies.
 "Consumer research shows that 79% of consumers think companies have a moral obligation to have a positive impact on people and biodiversity, but only 37 % are confident that companies pay serious attention to this issue" said Rik Kutsch Lojenga, executive director for the Union for Ethical BioTrade (UEBT).
"With consumer awareness on biodiversity on the rise, companies need to step up their sourcing practices," he said.
Panelists admitted that conveying the right message to consumers has been a challenge.
Franziska Staubli, deputy head of sustainability at major Swiss supermarket retailer Migros, expressed the difficulties they face.
"Explaining to the consumer the difference between the different sustainability labels is a challenge.  Our objective is that all our products fulfill a minimum criterion for sustainability and that we find a good way to communicate our value-added products such as biodiversity or fair trade."
Annette Piperidis, manager of sustainable sourcing at cosmetics firm Weleda, voiced similar concerns and the need to communicate the best practices of companies.
"What's missing is the communication to consumers. In the media, we usually only hear about the bad stories of companies. But we also need a voice to promote the good stories," she said.
Ms. Jaramillo also agreed that putting the positive side of the story is important to inspire and motivate others to follow, as well as encourage actors to work together for a bigger impact in tackling the issue of biodiversity conversation.
"BioTrade is a partnership, we work together with partners, so we don't duplicate activities and use the experiences and know-how at the country, regional, and global levels," she said.
The new BioTrade programme  Linking trade, biodiversity and sustainable development was launched in April 2018 with the financial support of SECO. Programme activities aim to contribute to achieving the Sustainable Development Goals, a 15-year roadmap adopted by the international community in 2015.
BioTrade refers to those activities of collection, production, transformation, and commercialization of goods and services derived from native biodiversity under the criteria of environmental, social and economic sustainability.