11 July 2019
Want agricultural technology to work for women? Involve them in its development.
In Jacopampa, Bolivia, the laborious task of sorting and selecting potatoes by size mainly falls to women.
A recent attempt to make their work easier and more efficient failed when new equipment to mechanize the task couldn't be used by the target women.
Why? The women's views and needs weren't factored in during the design phase. As a result, the equipment was too big and heavy for them to operate.
"Technology is often developed without women's participation and may not respond to women's needs," UNCTAD Deputy Secretary-General Isabelle Durant said on 4 July at an event during the 2019 Global Review of Aid for Trade at the World Trade Organization (WTO) in Geneva, Switzerland. 
"Women's limited presence at all levels of research makes it less likely for their needs to be prioritized and addressed through agricultural research and development," she added.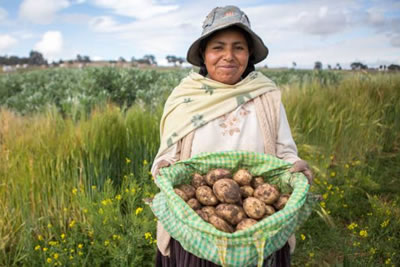 Related link:
Besides ramping up food security, agricultural technologies can spearhead economic development and women's empowerment by increasing their incomes and job opportunities.
UNCTAD has joined forces with the UN's Food and Agriculture Organization (FAO) to ensure women fully benefit from such technologies.
Women's involvement key
Involving women in technology development and recognizing the value of their knowledge are key ingredients to avoiding results like the unusable potato-sorting equipment.
While women are rarely referred to as innovators, they are central to local agricultural innovation. This is particularly true for plant breeding techniques, since women are often the guardians of knowledge about local varieties and genetic information.
"Research suggests that consulting women and involving them leads to better plant varieties," said UNCTAD's gender expert, Simonetta Zarrilli.
"Their involvement also improves the chances that they will quickly adopt the new varieties, enhancing the benefits for women farmers," she added.
Ms. Zarrilli said this is the case for new rice varieties in West Africa and beans in Rwanda.
Women's gold
Thanks to technological upgrading, shea butter has been dubbed "women's gold" not only for its colour, but also because it provides employment and income to millions of women across sub-Saharan Africa.
"The introduction of new technologies has allowed women to increase production and earnings and boosted economic growth at the country level," said Francesca Brenda Opoku, chief executive officer of Solution Oasis Ltd, a leading cosmetics company in sub-Saharan Africa.
More sophisticated technologies, such as blockchain, can also play a key role in singling out trustworthy producers and distinguish their products from adulterated ones, said James Wilkes, chief executive officer of HiveTracks, a US-based company that has developed a new technology to help create a trustworthy supply chain for honey.
Women still face barriers
However, in this field, as in many others, women still face barriers.
Men adopt new agricultural technology at higher rates and faster than women.
And service providers and rural organizations, which are key channels for technology dissemination, often fail to recognize women's role in agriculture and target them effectively.
"While women are the backbone of rural economies in many developing countries, their limited access to education, advisory services, credit, markets and other productive resources, including technology, hinders their ability to fully benefit from international trade," said Kari Puurunen, Finland's deputy ambassador to UNCTAD, WTO and the World Intellectual Property Organization.
"Trade can be a powerful tool to empower women, but this is not automatic," he added.
Turning disadvantages into opportunities
But some shortcomings can become opportunities.
For example, women farmers in some developing countries who haven't had access to pesticides and other agro-chemicals are now finding it easier than their male counterparts to get organic certification, said Carolyn Rodrigues Birkett, a director at FAO in Geneva.
And getting organic certification opens the door to premium agriculture value chains.