18 June 2018
UNCTAD joins the International Chamber of Commerce Brazil to level the playing field in trade negotiations with the help of artificial intelligence
With international trade agreements becoming increasingly complex, UNCTAD is working with the Brazilian arm of the International Chamber of Commerce (ICC Brazil) to use artificial intelligence (AI) to help trade negotiators, especially those representing less powerful nations.
"Artificial intelligence could help reduce the complexity of information and level the playing field between big and small players in trade negotiations," said Bonapas Onguglo, in charge of UNCTAD's trade analysis branch.
A comparison of the 1985 US-Israel trade deal with the one that the United States and Singapore signed in 2004 shows how much such agreements have evolved.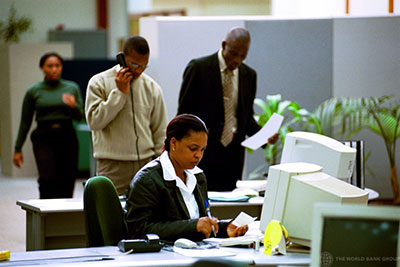 The 1985 deal has less than 8,000 words and contains just 22 articles, mostly dedicated to tariffs, agricultural restrictions, import licensing and rules of origin – what Harvard economist Dani Rodrik calls conventional trade topics .
While these issues are also covered in the US-Singapore deal, most of its 20 chapters and 70,000 or so words deal with other topics such as anti-competitive business conduct, e-commerce, intellectual property, investment rules, labour rights and the environment.
94% in just 26 seconds
AI has already proved its worth in the comparable field of law.
A two-month test pitting 20 lawyers against LawGeek's AI showed that humans were no match for a robot in spotting risks within the legal documentation for non-disclosure agreements – deals meant to protect confidential information such as new manufacturing processes and marketing schemes.
In terms of accuracy, the lawyers scored an average of 85%, compared to the robot's 94%. But more impressive was the fact that AI was able to review the five agreements in just 26 seconds, while the lawyers took an average of 92 minutes.
"The accuracy and speed of AI in reviewing legal documents shows clearly the game-changing potential of technology for trade negotiations," Mr. Onguglo said.
Restoring confidence
Just as important, the new technology could also make trade negotiations more transparent for everyone, including the public, said Gabriel Petrus, ICC Brazil's executive director.
"There's no better way to restore confidence in the global rules-based trade system," Mr. Petrus Tweeted on 3 June, referring to the anti-globalization tide that has swept many parts of the globe as more workers and consumers have become convinced that free trade has dealt them a bad hand.
In April 2018, UNCTAD and ICC Brazil signed a partnership to work together to use cutting edge technologies to boost and improve trade.
ICC Brazil invited UNCTAD to join the artificial intelligence project because the organization has expertise in the challenges that developing countries face in trade negotiations.
UNCTAD took part in a "design thinking" session hosted by IBM Brazil on 30May as part of ICC Brazil's Intelligent Tech and Trade Initiative . The session identified the main challenges of trade negotiations and defined priority areas where AI could help.
The next step is for IBM Brazil to build a prototype of the tool and test it on the trade negotiations between South American trade bloc Mercosur and Canada. The results are planned to be presented at the World Trade Organization's Public Forum in October .
​​