09 November 2012
UNCTAD is collaborating with Turkey in the context of the creative economy activities. At the occasion of the meeting on Finance, Trade and Investment which included creative industries, UNCTAD supported the launching and establishment of the Istanbul Creative Economy Centre.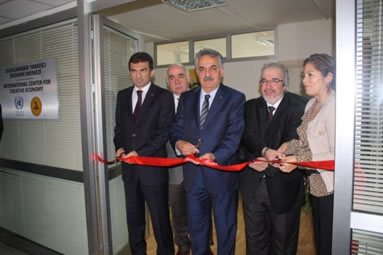 The event was organized by the Istanbul Commerce University, the Istanbul Chamber of Commerce and with the support of the Ministry of Trade and Customs, from 8-9 November 2012.
The meeting also benefited from the presence and endorsement from the Ministry of Culture and Tourism, the chairman of local government in charge of creative economy in Istanbul and its regions, and leaders from the business and art community in Istanbul. This conference follows up on the activities celebrating Istanbul's title of 2010 European Capital of Culture.
Mr. Guillermo Valles, UNCTAD Director of the Division on International Trade and Commodities gave a key note address by video on the role of the creative industries and the new opportunities for development and growth.
The Turkish Minister of Customs and Trade opened the Istanbul Centre for Creative Economy, Cultural industries and creative cities which will be housed at the university campus. The main partners of the center are the Ministry of Trade and Customs, Metropolitan Municipality of Istanbul and Istanbul Chamber of Commerce.
UNCTAD made a presentation on Creative Industries and Development in Emerging Economies.
UNCTAD supported the setting up of the Istanbul Centre for Creative Economy, Cultural industries and creative cities and was invited to join the advisory board of the Centre together with other internationally recognized experts. UNCTAD is working on a proposed protocol of cooperation with the Istanbul Commerce University to strengthen the creative industries activities within the center.
The centers aims are to carry out policy-oriented research and dissemination activities in the areas of creative economy, cultural industries and creative cities, building global and local networks with a view to develop collaboration between policy-makers, business, academic institutions, NGOs and local and central governments, among others.