27 May 2016
The United Nations Capital Development Fund (UNCDF) and UNCTAD have announced a commitment to strengthen their joint work on policy research and analysis; technical cooperation; and capacity building. Working more closely together, they aim to improve further their support for the world's 48 Least Developed Countries (LDCs) from the earliest stages of implementation of the Sustainable Development Goals (SDGs).
To this end, the two organizations signed a Memorandum of Understanding at a mid-term review meeting of the ten-year Istanbul Programme of Action for LDCs (IPoA) taking place in Antalya, Turkey on 27-29 May 2016.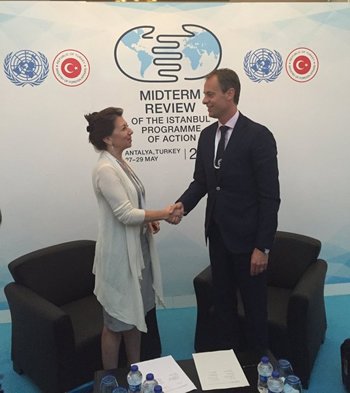 "We are very excited about this partnership and what it means for our support to Least Developed Countries," UNCDF Executive Secretary Judith Karl said.
"UNCDF seeks to make finance work for poor people, small businesses, and under-served regions within LDCs. Linking the insights and lessons from our decades-long, on-the-ground experience with the excellent knowledge generation and research capacity of UNCTAD will help us both respond better to many of the challenges and opportunities facing LDCs."
"We also hope that the results of this partnership will support both LDCs and their development partners as they articulate and implement policies and programmes which ensure that growth is inclusive," she added.
UNCTAD Deputy Secretary-General Joakim Reiter said: "UNCTAD created the LDC category 45 years ago to trigger action on addressing the development needs and challenges of countries with the lowest development indicators in the world. UNCTAD's work helps LDCs in their efforts to make, grow and sell goods, and develop services, so that they can achieve structural economic progress and graduate from LDC status."
"By combining UNCTAD's expertise on trade and development issues with UNCDF's experience in building inclusive financial systems, we hope to enhance the capacity of both institutions to assist LDCs in achieving the targets of the IPoA and the SDGs," he added.
About UNCTAD and UNCDF
A body of the United Nations General Assembly, UNCTAD carries out economic research and policy analysis and produces alternative policies and options with recommendations to support government decision-making in poor and rich countries. It builds international consensus on trade and development issues, and offers technical assistance to support the effective and equitable integration of developing countries in the global economy.
UNCDF is the UN's capital investment agency for the world's 48 least developed countries. With its capital mandate and instruments, UNCDF offers "last mile" finance models that unlock public and private resources, especially at the domestic level, to reduce poverty and support local economic development.
UNCDF's financing models work through two channels: financial inclusion that expands the opportunities for individuals, households, and small businesses to participate in the local economy, providing them with the tools they need to climb out of poverty and manage their financial lives; and by showing how localized investments -- through fiscal decentralization, innovative municipal finance, and structured project finance -- can drive public and private funding that underpins local economic expansion and sustainable development. By strengthening how finance works for poor people at the household, small enterprise, and local infrastructure levels, UNCDF contributes to SDG 1 on eradicating poverty and SDG 17 on the means of implementation. By identifying those market segments where innovative financing models can have transformational impact in helping to reach the last mile and address exclusion and inequalities of access, UNCDF contributes to a number of different SDGs.