07 July 2023
The two women entrepreneurs will add to UNCTAD's efforts to raise visibility for women e-traders at the policy table and shape a more gender-inclusive digital space.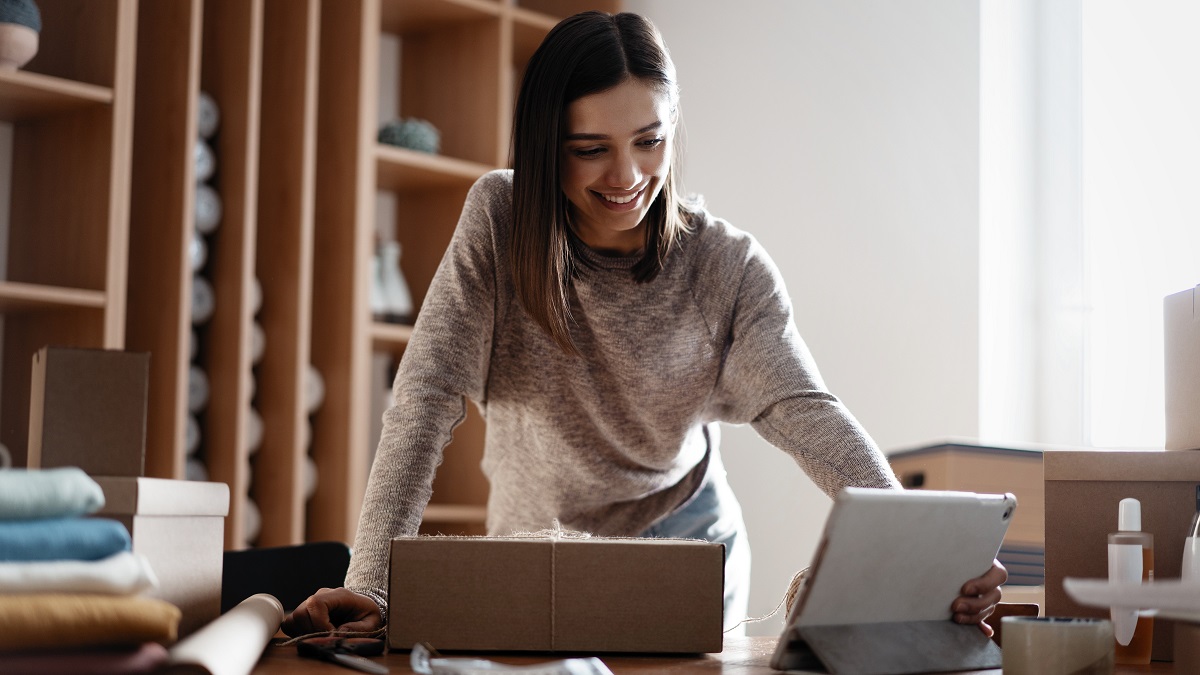 The UNCTAD-led eTrade for Women initiative on 6 July welcomed two new advocates for 2023-2024.
Yasmine Abdel Karim of Egypt and Ana Maria Sandoval of Colombia will work alongside three existing advocates – Birame N. Sock of Senegal, Damilola Olokesusi of Nigeria and Lennise Ng of Malaysia – who will continue in their role for another year.
Appointed by UNCTAD Secretary-General Rebeca Grynspan, these successful women entrepreneurs work to amplify calls for stronger policies and regulations to build more gender-inclusive digital ecosystems.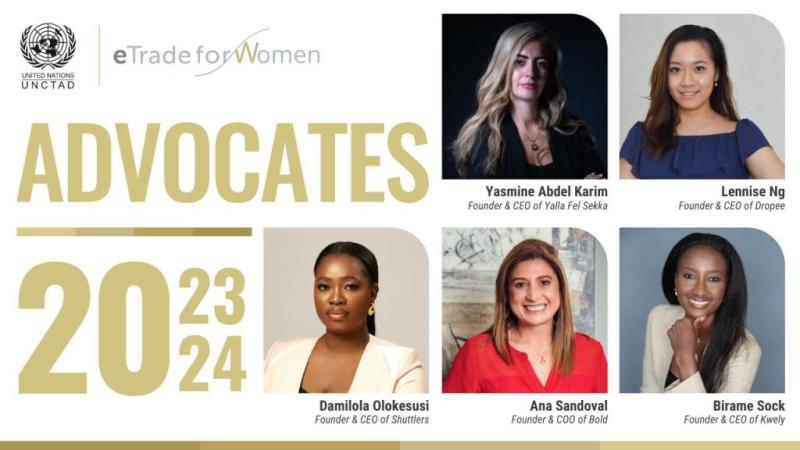 New advocate for the Arab region
Ms. Abdel Karim is the new eTrade for Women advocate for the Arab region.
She founded her company Yalla Fel Sekka, an Egypt-based logistics company for rapid deliveries, amid the COVID-19 pandemic in 2020.
She sought to develop a disruptive data-driven technology platform to address the unmet needs of supermarkets, small- and medium-sized enterprises, and e-commerce outlets for new and diversified business opportunities.
As an advocate, Ms. Abdel Karim aims to shed light on the opportunities that digitalization can open for women entrepreneurs and encourage more women to embrace entrepreneurship.
"While it is important to bring attention to the challenges women face in the digital space, I also wish to share a positive message about how digital entrepreneurship can help solve problems and to encourage more women to become business leaders," Ms. Abdel Karim said. Read her full profile.
New advocate for Latin America and the Caribbean
Ms. Sandoval is the new eTrade for Women advocate for Latin America and the Caribbean.
She has over 20 years of experience in product development and the design of marketing and sales strategies, mainly in the financial industry and digital payments in Latin America.
Her company, Bold, has already enabled over 350,000 small merchants in Colombia to receive credit card payments through a digital solution, with upcoming digital financial services.
As an advocate, Ms. Sandoval will share her expertise as a businesswoman and digital strategy expert, as well as promote women's economic empowerment in Latin America and beyond.
"In Latin America, there are few women entrepreneurs, especially in the digital space. Yet I believe that women entrepreneurs have a lot to offer and can generate great impact when in positions of leadership," Ms. Sandoval said. Read her full profile.
Tackling persistent gender gaps
At the current rate of progress, it could take 131 years to reach full parity between men and women, according to the World Economic Forum's global gender gap index, which benchmarks gender parity across 146 countries.
Notably, the proportion of women hired into leadership positions has decreased compared to pre-2022 trends, including in the technology sector.
To bridge the gender divides in the digital economy, UNCTAD in 2019 launched the eTrade for Women initiative, creating regional communities to help female entrepreneurs access the resources needed to capitalize on e-commerce opportunities.
"The past few years have shed light on the growing importance of digitalization in our lives. Yet women still face many barriers in the digital space – from gender biases to lack of skills or access to funding" said Shamika N. Sirimanne, UNCTAD's director of technology and logistics.
"By sharing their voice and acting as credible role models, the advocates have the power to inspire many more women to reap the benefits of digitalization", Ms. Sirimanne added. 
Empowering fellow women entrepreneurs
As role models, the advocates inspire younger generations to harness the ongoing digital transformation.
Since 2019, they have supported more than 300 women digital entrepreneurs in developing countries and contributed to 11 regional masterclasses across Latin America, West and East Africa, Southeast Asia, the Balkans, and the Arab region.
The advocates also helped expand the eTrade for Women communities, the local chapter of the initiative, now present in 40 countries.
Birame N. Sock is the advocate for French-speaking African countries, Damilola Olokesusi of Nigeria fills the role for English-speaking African countries and Lennise Ng is the advocate for Asia.