31 August 2018
UNCTAD is cooperating with Indonesia to amplify global support and understanding of the trade and development gains of the creative economy ahead of the first World Conference on Creative Economy in Bali in November.
UNCTAD is supporting Indonesia's efforts to host a global conference on the creative economy and identify economic drivers underpinning it.
The planned World Conference on Creative Economy (WCCE) will take place in Bali on 6–9 November.
The South-East Asian nation hosted two preparatory meetings, in November 2017 and in May 2018, to develop a preliminary programme for the event – which will explore how the creative industries can generate economic inclusivity and boost development.
The conference will focus on social cohesion, regulations, marketing and financing.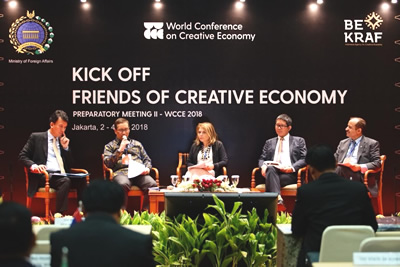 Endorsing the conference and Indonesia's creative economy potential, President Joko Widodo said: "I believe that the future of Indonesia will be dominated by the craft and creative industries."
The chief of UNCTAD's creative economy programme, Marisa Henderson attended a planning meeting in Jakarta in May and said: "As the trade and development community realizes the potential of the creative economy, there is an opportunity to raise the profile of the topic and ensure its place on the global agenda."
The creative industries – which include creative activities such as advertising, architecture, arts and crafts, design, fashion, film, performing arts, publishing, research & development, software, and computer games – are the lifeblood of the creative economy.
The May meeting, jointly organized by the by Indonesian Agency for Creative Economy and Ministry of Foreign Affairs, brought together government officials from over 39 countries, and a wide-range of representatives from international organizations, the private sector, universities and non-governmental organizations.
Friends of the creative economy
UNCTAD was asked to lead the drive for a 'Friends of Creative Economy' group as a potential deliverable of the WCCE in November 2018.
"While the creative economy ecosystem consists of many different industries, sectors and stakeholders, there is a universe of common cross-cutting issues at the macro level, such as trade regulations," Ms. Henderson said.
"There are also micro-level challenges from the skills gap to the cost of getting goods to customers, which need to be addressed. These are matters that a strong, knowledgeable collective can work together to highlight and manage."
The friends group would be made up of government and non-government stakeholders who share common and critical views on the importance of the creative economy for sustainable development.
It would also help build an inclusive and open space for discussions on the creative economy from a trade and development perspective.