31 October 2012
The Technology and Innovation Report 2012, subtitled Innovation, Technology and South-South Collaboration, was launched today.
At the occasion of the launch in Bangkok, Thailand, UNCTAD's Secretary General, Dr. Supachai Panitchpakdi, stressed that growing economic links among the 'emerging countries' of the South holds the promise that South-South collaboration can help to bridge the technological divide, increase technological absorption and thus lead to the build up of innovative capacity in the developing world.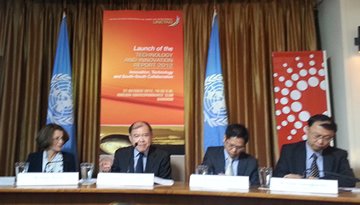 UNCTAD S-G, Dr. Supachai Panitchpakdi launched the Technology and Innovation Report 2012 at the Foreign Correspondents' Club of Thailand
The Report shows, he noted, that developing countries accounted for 55% of global trade in 2010, as compared to 41% in 1995, and the process already is leading to useful technology diffusion, technology transfer and innovative capacity.
Developing countries have now become major suppliers for other developing countries in high-technology and medium-technology products. Trade in such products not only helps to expand economic activity and shift consumption patterns, but shows that developing countries are increasingly offering competitive products in a variety of industries and involving a range of technologies.
Stressing on the need to consciously harness the potential of South-South collaboration for technological learning in all developing countries, the Report notes three salient channels through which such technological diffusion occurs, namely, the import of capital goods, participation in global production networks and increasing South-South FDI.
The analysis in the Report, based on data and case studies on South-South technological collaboration, shows that while such collaborations are occurring and helping to enhance technological capabilities, a large number of least developed countries are currently not in a position to exploit these opportunities to the fullest.
In order to enable all developing countries to be able to benefit from South-South technological collaborations, the Report outlines several principles that could form the basis of a South-South framework on technology and innovation. These principles are not intended to be binding in terms of extracting commitments, but rather facilitative, with the intent of creating a mutually beneficial collaborative environment for all developing countries in this area. Noting the detailed policy recommendations made by the Report in this regard, Dr. Supachai stressed on the need to create policy incentives in line with the principles outlined at the national and regional levels.
Dr. Watcharas Leelawath, Deputy Executive Director, International Institute for Trade and Development commented on the Report stating that was in full agreement with the policy findings and that they applied well to the regional context in the ASEAN countries.
Dr. Pichet Durongkaveroj, Secretary General of the National Science, Technology and Innovation Policy Office, Thailand, offered many examples from Thailand's national context on innovation to show why and how sharing best practices and innovation experiences amongst developing countries is very important for overall development.
The meeting was well attended by the press, governmental representatives and the policy research community.